1. Marian Rivera

Marian Rivera: Mars Ravelo's Darna TV Series (2009)

Check the resume. Her hips flew everywhere as Marimar! Her stint as Dyesebel made her queen of the seven seas! You named her the country's sexiest Filipina in 2008! Really, is it such a surprise Marian was tapped to fill Darna's cups? We've yet to see her take on Darna, but there's no doubt she'll soar. The trailers and promotional images, if you really want to go by them solely for debate's sake, have been scorchers. A winner in the offing!



2. Angel Locsin

Angel Locsin: Mars Ravelo's Darna TV Series (2005)

Angel Locsin's inherently sweet, and charming features made her TV adaptation of Darna that much more personable. While others before her were able to successfully show Darna's fierceness, none of them have been able to balance both Darna's courage and gentleness better than Angel did. Her Darna passed the curves requirement with flying colors, reason her TV series was hot property in 2005. Angel's Darna was also critical because it was the superheroine's return to action after a 10-year hiatus. A comeback for the ages!



3. Anjanette Abayari

Anjanette Abayari: Darna Ang Pagbabalik (1994) Ang Pagbabalik ni Pedro Penduko (1994)

We're never g oing to take Anjanette out of this list ever! With a physique that could knockout Valentina based on drool-worthiness alone, this former beauty queen turned actress is arguably the most voluptuous in the bunch. Her round, piercing eyes ooze with overpowering appeal. And her toned and sexy legs were the bomb. But more than her physical gifts, Anjaette as Darna made us feel proud to be brown. We never quite understood why a mestiza gets to be cast first as Darna when a morena seemed more apt. All the flying under the sun can't be all that whitening, if you ask us.



4. Vilma Santos

Vilma Santos: Lipad, Darna, Lipad! (1973), Darna and the Giants (1974), Darna vs The Planet Women (1976) and Darna and Ding (1979)

Ate Vi first donned the costume as a then 19-year-old teen sensation, earning her the distinction of being the youngest actress to ever portray the mouthwatering high-flyer. Reports said the incumbent Batangas Governor had to be convinced thoroughly then by producers and friends to give the project a go. But with curves, which would years later be further toned with demanding dancing chores in the top-rating variety show V.I.P. (Vilma in Person), tapping the Star For All Seasons for the part was a no-brainer.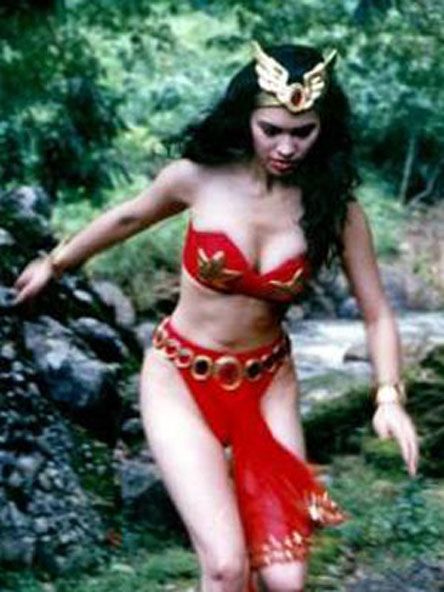 5. Nanette Medved

Nanette Medved: Darna (1991)

This half-russian, half-Chinese actress might be the Darna with the least amount of Pinoy blood in her veins. But who cares? Since when has the choice been about bloodline anyway? With her irresistible full lips and oh-so heavenly curves, the sultry Nanette Medved was Darna at her most smoldering

article source FHM
Sphere: Related Content