Makansutra Asian Food Village


Imagine. Char Kway Teow and Hainan Chicken RIce from Singapore, Adobo from Philippine, Nasi Lemak from Malaysia, Satay from Indonesia, Dim Sum from Hongkong and many other Asian flavors in one location , with open kitchens all dressed up like village food stalls- for your picking to have a completely satisfying old world style Asian meal. And once that dream ends, head back to reality and down to Makansutra Asian Food Village in Manila because that is where it happens. Over seventy dishes from all over Asia are served in Makansutra's first regional food court at a reasonable and affordable price.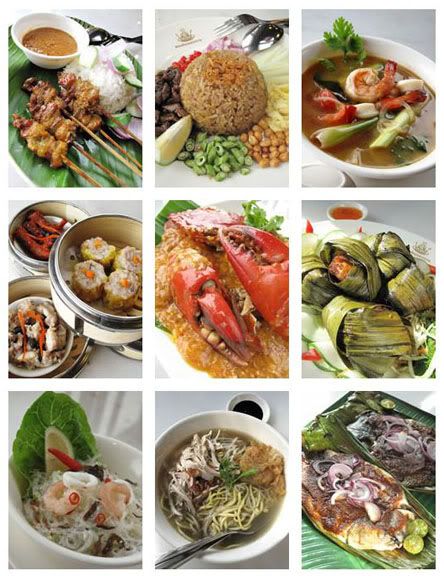 top (L to R): Satay, Bagoong Fried Rice, Tom Yum
middle (L to R): Dim Sum, Chili Crab, Pandan Chicken
bottom (L to R): Yum Voon Sen, Soto Ayam, Grilled Fish

Set in the centre of the food court is the island kitchen which houses 12 stations manned by chefs with a penchant for Asian flavours. This multi sensory food court with an open, naked kitchen concept, touts a kind of culinary showmanship that will only tease, tantalize and enhance your dining experience. Order what pleases your senses or, point at the hand painted food/ photo signs on A-stands which gives you an idea of what the traditionally named foods are. You just order, pay, collect and go seat in a setting that reeks of a truly rustic, old world atmosphere of an Asia past. The SE Asia coffeeshop chairs and stools with marble tables, the Indonesian tok panjang bench and long wood tables and old Philippine Spanish café stools, all add to the ambience.

As a finishing touch, digest the meal with a calming and charming view of the Manila Bay for a reprieve to all that feasting.




Makansutra Asian Food Village
Manila Ocean Park
Behind Quirino Grandstand
Luneta Park, Manila
Telephone: +63 2 567 3512
Fax: +63 2 567 3512 loc. 105
Email: contact@makansutra.com

*entrance to Makansutra Asian Food Village is free and does not require Oceanarium entrance pass.

Here's a video courtesy of 'Sweet Life' which aired Sept. 29, 2009. Uploaded by DCRJ in my YouTube account 'DCRJPhilippines'


Sphere: Related Content