We recently saw 'Monsters vs. Aliens' in full 3D effect at the San Miguel-Coca Cola IMAX theater in SM Mall of Asia last Saturday March 28, 2009. Although the movie itself isn't quite the way I was expecting, the 3D effect is still the usual wow factor experience.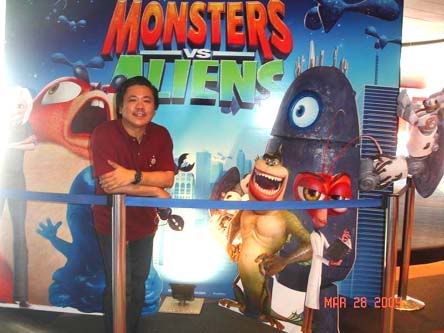 Waiting for Monsters vs. Aliens to start at the IMAX theater in SM Mall of Asia, March 28, 2009.

The San Miguel-Coca Cola IMAX Theater at the SM Mall of Asia is the first of its kind in the Philippines and lives up to its promise as having the ultimate 3D movie experience with its movie line-ups for the year 2009. Transformers 2: Revenge of the Fallen is shot with IMAX cameras and will be shown in June. As for the month of July is Harry Potter & The Half Blood Prince. Titanic director James Cameron will have his 'Avatar' movie premiere in December with its much ballyhooed new 3D technique.




Movie piracy dampens movie ticket sales in theaters but with IMAX it's a new fun experience to take your whole family back in attendance inside the theaters.
Sphere: Related Content