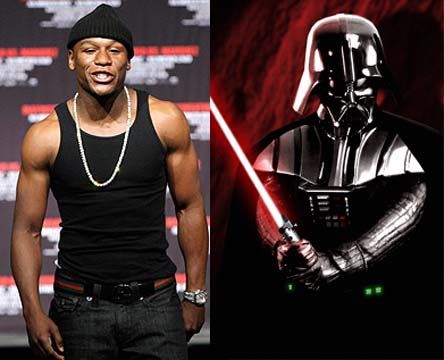 Floyd Mayweather Jr. is the villain Darth Vader

Floyd Mayweather: The Empire Strikes Back
Monday, May 04, 2009
Posted By Dave "Large" Larzelere 5:15 PM

Sports needs bad guys. What are "sports" anyway other than grand entertainment, and what is entertainment (in the U.S. anyway) besides a multi-media comic book documenting the ongoing cosmic struggle between good and evil? Who was the French film director who said that, "once a Hollywood budget gets to be more than 10 million dollars, you have to start putting white hats on the good guys and black hats on the bad guys?" We like our heroes and villains very clearly delineated in this country. You've got your Luke Skywalker column and your Darth Vader column and not a lot of room in the middle.
Well, cue the Imperial March, people, because Darth has returned to the Death Star and he's rolling thick with his whole Vader posse. And make no mistake about it -- holms is looking to get gangsta with Luke Pacquiao and Manny Skywalker and any other punkass pious poser who wants to stand in his way.

Floyd "Money" Mayweather Jr. is quite simply one of the best bad guys in sports today, and his absence from the boxing scene, during his sham "retirement," left a void that no number of ferocious Filipinos could fill. That is why I give thanks to the boxing gods above that Floyd is getting back in the picture, announcing this past Saturday afternoon that he will return to fight Juan Manuel Marquez on July 18th with an eye towards making a superduper good-versus-evil smackdown with Manny Pacquiao later this year.



Manny Pacquiao is Luke Skywalker

Now don't get me wrong -- I like me some Pacquiao. As heroes go, he's the rilly dilly. He's got the essential heroic back-story of poverty and hard work and devout Christianity, he's got the devoted and sage mentor, and he's got that dynamite smile, quiet charisma, and stupid freaky power in both of his lightning-fast hands (ask Ricky Hatton about that). Plus, he's got a bizarrely Buddhistic Jedi way about him that says he is a man at peace with himself who summons his fury only in the service of his people and the general cause of righteousness.

Cats like that don't come around every day, but let's face it -- without a good bad guy to match them bad for good, even the best of good guys exist in a very boring vacuum. The Pacquiao-Hatton promotion bored the crap out of me for the most part, two respectable guys paying each other much respect in the most respectful way of respectfulness. Ninja please. I tell you, when I'm at these interminable pressers, I'm always thinking to myself just please God let there be one man up there on the podium who is mean, and crazy, and weird.

In other words, let me have Brother Floyd, the uncontested king of the mean/crazy/weird triple threat. At the Marquez presser, Floyd wasted no time breaking out his evil genius A-material. "I beat fighters and turn them into bitches and they go out and put on fish-nets," he said at this Golden Boy-sponsored event, taking a not-so-thinly veiled shot at, well, the Golden Boy himself.

Most people see this fight with Marquez as nothing but a challenging tune-up for Floyd's ultimate showdown with Pacquiao, and I tend to agree with that. And as his training camp progresses, I fully expect Floyd to be dusting off his bad-guy routine at the same rate that he shakes off the ring rust. Marquez is easy pickings on that front, not a guy much given to trash talk, a humble character for the most part who just happens to be one of the best fighters in the sport. I eagerly look forward to seeing and hearing the ways in which Floyd attacks this most unassailable of characters.



Trainer Roger Mayweather is Emperor Palpatine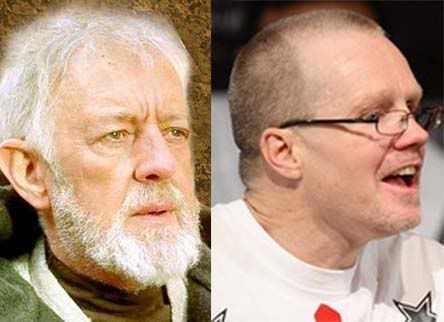 Trainer Freddie Roach is Obi-Wan Kenobi

All in the service of fine-tuning his diabolical game for Pacquaio the Brave. I tell you, this thing is going to be so Star Wars it's almost ridiculous. Floyd's uncle and trainer, Roger Mayweather, makes such a perfect Emperor Palpatine, and who in the game is more Obi-Wan than Pacquiao's trainer, Freddie Roach? Not to mention the fact that with the ridiculous handspeed of both Manny and Floyd, when they finally do end up in the ring together, it's going to seem like they're fighting with lasers.

article source : SportingNews.Com
Sphere: Related Content