'Dark Knight' sets weekend record with $155.34M
Sunday July 20 1:47 PM ET
LOS ANGELES (AP) Batman has sent Spidey packing as king of Hollywood's box-office superheroes.
"The Dark Knight" took in a record $155.34 million in its first weekend, topping the previous best of $151.1 million for "Spider-Man 3" in May 2007 and pacing Hollywood to its biggest weekend ever, according to studio estimates Sunday.
"We knew it would be big, but we never expected to dominate the marketplace like we did," said Dan Fellman, head of distribution for Warner Bros., which released "The Dark Knight." The movie should shoot past the $200 million mark by the end of the week, he said.
1. "The Dark Knight," $155.34 million.
2. "Mamma Mia!", $27.6 million.
3. "Hancock," $14 million.
4. "Journey to the Center of the Earth," $11.9 million.
5. "Hellboy II: The Golden Army," $10 million.
6. "WALL-E," $9.8 million.
7. "Space Chimps," $7.4 million.
8. "Wanted," $5.1 million.
9. "Get Smart," $4.1 million.
10. "Kung Fu Panda," $1.8 million.
article source :
http://movies.yahoo.com/mv/news/ap/20080720/121658682000.html
***************
DCRJ at the Canon & Koko-Crunch Sponsored THE DARK KNIGHT Play area at the SM Mall of Asia
We killed time here at the Dark Knight play area before watching THE DARK KNIGHT at the San Miguel-Coca cola IMAX theater, SM Mall of Asia
Batman: The Dark Knight toys filled up an area
great to be a Batman fan once again!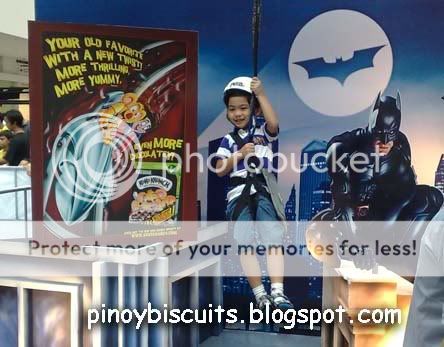 your kids can have their photo taken with The Dark Knight buckled in rope
your kids could also shoot Batman and the Joker and his henchmen at the Gotham National Bank
climb your way at the top then slide down the other side via cable
You and your kids will have an enjoyable time at the Koko Krunch sponsored The Dark Knight area at the SM Mall of Asia. Just pay P60 per kid, a free Koko Krunch bag will be given, free cups of Koko Krunch with milk all-you-want plus the participation on all the activities inside the area.
Sphere: Related Content