Jeffrey Samuel Corwin
(born July 11, 1967 in Norwell, Massachusetts) is best known as the host and executive producer of
The Jeff Corwin Experience
and
Corwin's Quest
, two American television shows following his adventures discovering and exploring various kinds of animal life and climates (including locales from all over the world), airing on the Animal Planet cable channel.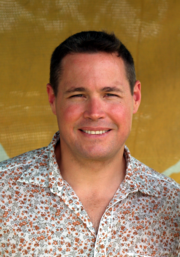 Jeff Corwin attended Norwell High School. Jeff spent his freshman year of college at Eastern Nazarene College, which is located in Quincy, Massachusetts. Later he attended Bridgewater State College in Bridgewater, Massachusetts. Jeff has bachelor of science degrees in biology and anthropology. He conducted his graduate studies at the University of Massachusetts at Amherst, obtaining a master of science in wildlife and fisheries conservation and doing work on bats and snakes. In 1999, Bridgewater awarded Corwin an honorary doctorate in public education. He lives with his wife, Natasha, and daughter Maya Rose in Marshfield, Massachusetts.
Corwin first experienced the tropical rain forests in 1984 in Belize. As an undergraduate, he became active in conservation of rain forest in Central and South America and helped establish the Emerald Canopy Rainforest Foundation. He also participated in the youth action committee for the United Nations Environmental Program. He lectures on wildlife, ecology and conservation to audiences throughout the United States. In 1993, Jeff addressed the General Assembly of the United Nations regarding the need to conserve neotropical rain forests.
Corwin's big break into television came about thanks to famed oceanographer Bob Ballard, the man who discovered the wreck of the Titanic, in the 1994 documentary Ballard produced for National Geographic called The Jason Project. Then, after several lean years, Corwin migrated over to the Disney Channel with Going Wild with Jeff Corwin. Eventually, he caught the eye of producers at Animal Planet, and since 2000 he's gone on to explore six of the seven continents- all except Antarctica, so far.
Corwin was also certified as an Advanced Field Medical Specialist by the U.S. Army Academy of Health Sciences, Fort Sam Houston, Texas.
In the spring of 2007 Corwin began a new TV show on the Travel Channel titled "Into Alaska with Jeff Corwin." The show highlights wildlife in Alaska while also having a travel perspective. It was originally aired in letterbox format and it would most likely be in high definition when the Travel Channel HD launches in 2008 if it airs again.
Despite the fact that Jeff frequently handles animals that could be considered dangerous, he has admitted on The Jeff Corwin Experience that he has a minor fear of monkeys.
Corwin's first encounter with snakes taken from an interview with Heartland Magazine:
"When I was, while exploring my grandparent's backyard in Middleboro, Massachusetts, I turned over a log and had an encounter that forever changed my life. I saw this garter snake, and was immediately transfixed by it. I remember catching it and bringing it into the house with me and seeing the terror it unleashed in people, but not understanding why they were so afraid of it. As I've often said, if I'd rolled back that log and found a golf club, I would have been Tiger Woods. I tracked that snake for two years and would visit it every time I went to my grandparents. One day, the neighbor next door snuck up behind me and cut off its head with a spade, thinking it was attacking me. I was so shocked by that behavior, by that expression of ignorance, it focused me on what I was going to do with my life. The day I found that snake was the day I became a naturalist. The day I saw it get killed out of a misunderstanding was the day I became a conservationist"
Here's a video excerpt I recorded from Animal Planet and uploaded to YouTube, just to show you how dedicated and knowlegeable this guy is to his craft.

Jeff Corwin Experience in the Rainforest of Ecuador Part 1/2 (opening scene should be familiar to 'Apocalypse Now' fans)


Jeff Corwin Experience in the Rainforest of Ecuador Part 1/2

Sphere: Related Content