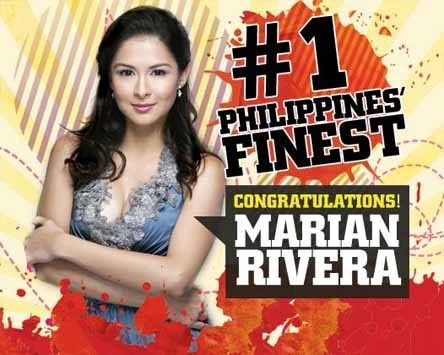 Here's the complete 100 list, from 100 to 1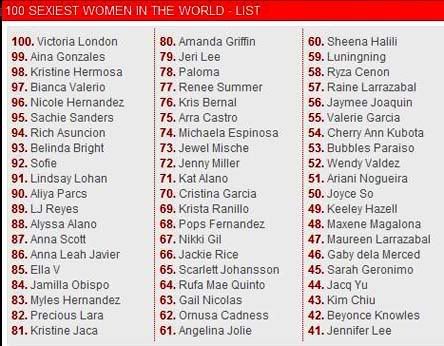 Top 5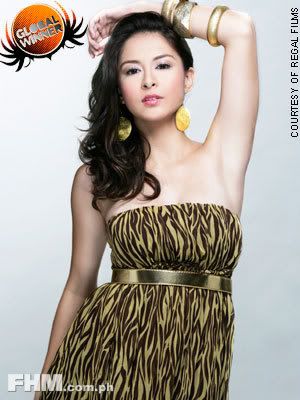 1. MARIAN Rivera
Marimar was clearly destined for greatness, and it was up to Marian to fulfill the promise. So she put on a sun-dress, danced on the beach, showed creamy gams, just enough looks at her cleavage, actually good acting and boom!clear dominance in the ratings game.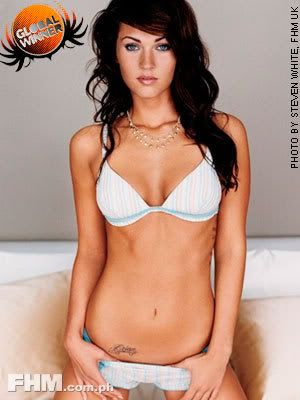 2. MEGAN Fox
Her insane rise to stardom and landing on top of FHM's global list of the 100 Sexiest are anchored on just one movie, and one where human participation could have been done away with easily: Transformers. How could such adoration be so swift? From a purely physical aspect, Megan draws no arguments.



3. KATRINA Halili
After years terrorizing lead stars in blockbuster soaps, Katrina has spent numerous afternoons being thrashed about, spat at, insulted, slapped in the face in the afternoon weepfest Magdusa Ka. Surely this will not benefit our only two-time winner at all! While we all want to love a pushover, we certainly cant lust after one.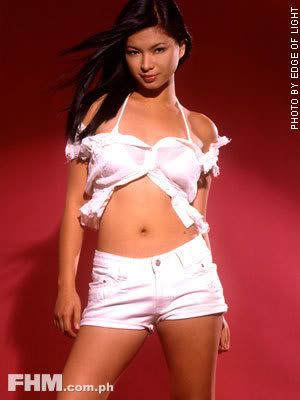 4. ANGEL Locsin
Not a few thought switching TV networks was a gross miscalculation on her part. But she is still in control of her worth, clearly in the mega-millions as evidenced by her stellar celebrity endorsements, a major TV drama, movies made and yet-to-be-made. And the clincher: She is still supernova-hot and not a hint of an implosion evident.



5. DIANA Zubiri
When FHM becomes a Philippine institution and pop culture critics begin to dissect our idea of beauty, they would probably come up with Diana Zubiri as the archetype. Not that the women who have graced our pages are not varied its just that Diana is so loved by the readers that theyve followed her in every pursuit she has taken. She is still Diana Zubiri, certified FHM hottie.

Complete lists : FHM Philippines

Sphere: Related Content