DAYO is the first all-digital full length feature animated film made in the Philippines. Cutting Edge Productions is proud to offer a revolutionary Philippine film that is set to make Filipinos proud.




With the use of stylus screen panels (without the use of pencil and paper) Pinoy animators are able to bring their creative imaginations to life.




Dayo combines paperless 2-D and 3-D technologies in presenting a fantasy film ripe with figures from Pinoy mythology. It tells the story of an 11-year-old kid named Bubuy (voiced by Star Circle Grand Kid Questor Nash Aguas) out to save his grandparents, who have been abducted into Elementalia, a fantasy land with strange flora and fauna.

BEHIND-THE-SCENES MAKING OF DAYO (Video)


'DAYO' Movie Trailer


Directed by Robert Quilao, Dayo also features the voice talents of Laurice Guillen, Peque Gallaga, Nova Villa, Noel Trinidad, Pokwang, and Michael V. Gerard Salonga does the film score, with Lea Salonga performing the theme.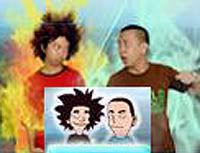 Note: What is truly exciting about DAYO is the appearance of the wacky duo Moymoy Palaboy and Roadfill in the film, plus the lending of the duo's real voices in a song number. How they would look like in animated form, well that's someting we have to find out.

Sphere: Related Content