This is my second visit at the MANILA OCEAN PARK, Father's Day June 15, 2008. My first review of the MOP can be found at this link DCRJ's First MOP Review

What's new at the MOP since my first MOP visit last March 2, 2008 ? Four things
1. Fish Spa
2. Glass Bottom Boat Ride
3. Shark Theater
4. Air-conditioned Souvenir Shop



They have placed some tents in front of the entrance to keep visitors away from the hot blazing sun rays

Gone are the long queue lines but you still have to wait your turn as the process of entering the oceanarium is by numbers highlighted atop the ticket booth.

still the same fish tanks and variety of fishes as seen in my first visit. What's really new (at least for me) is the FISH SPA located at the second level of the building




For a fee of P 150 you get to be pampered by tiny little fishes for 20 minutes by nibbling their way those dead skin off your feet.




very ticklish at first but you'll soon appreciate those bulgy eyed fishes' effort in giving you a soothing relaxing feel, just don't wiggle your feet they get frighten easily.

Next stop, the Glass Bottom Boat Ride




Here you get to wear a life vest jacket for safety




For a fee of P 150 you get to ride the glass bottom boat and see a whole new perspective of the fish tunnel below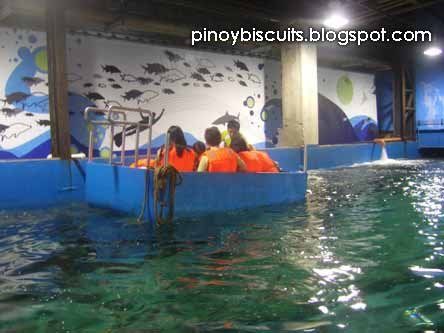 see also the filtering system of the MOP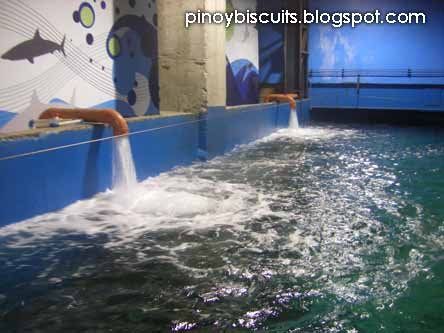 The souvenr shop I didn't get to see during my first visit




They even got mascots, meet Ting and Annie, mascots of the Manila Ocean Park




the look and feel of the souvenir shop just like the souvenir shops you'll find in HK (Ocean Park Hong Kong), Singapore (Underwater World) and Malaysia (Aquaria)

These are some of the Tshirt designs, I personally picked the black ones because of the Manila Ocean Park logo, cool huh Shirt prices 300 each


What's unique about MOP is the Fish Spa and Glass Bottom Boat Ride which you can't find in other ocean parks mentioned above, criticisms of the park's stiff prices, well you could say that but comparing those prices with ocean parks abroad, the MOP prices (entrance and tshirts) are still relatively dirt cheap!
Sphere: Related Content