Snapshot taken by my brother Darwin in Las Vegas, Lorna Tolentino and Rudy Fernandez at the back during the weigh-in of Manny Pacquiao and Juan Manuel Marquez on March 14, 2008 a day before the 'Unfinished Business' bout


Snapshot taken last March 14, 2008 at the Mandalay Bay Events Center during the Pacquiao-Marquez weigh-in in Las Vegas, Nevada
Actor Rudy Fernandez dies
INQUIRER.net
First Posted 06:58:00 06/07/2008
MANILA, Philippines — Movie actor Rudy Fernandez died at his home at 6:48 a.m., Senator Jinggoy Estrada, a fellow actor, said on radio Saturday.
Fernandez had battling cancer for more than two years.
His wife Lorna Tolentino and close friends were with him, Estrada said.
Fernandez had asked his wife to have him discharged from the Cardinal Santos Medical Center in San Juan City, where had been confined for a month, on Sunday, their 25th wedding anniversary
article source :
inquirer.net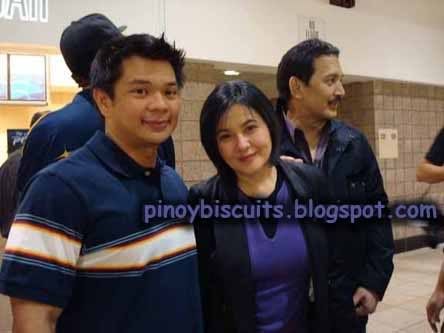 My brother Darwin with a photo-op with Lorna Tolentino and Rudy Fernandez during the PACQUIAO vs. BARRERA II at the Mandalay Bay in Las Vegas, snapshot taken December 6, 2007.
Sphere: Related Content