East LA, CA.:- The six city tour conceived by the promoters of the December 6th "Dream Match" at the MGM Casino Resort at Las Vegas between Filipino idol Manny Pacquiao and the ex-Olympian and multi-division champion Oscar de la Hoya concluded today.

The tour commenced at the Liberty Island in New York and then proceeded westward to Chicago, Houston, San Antonio, and San Francisco before ending here near the famous landmark called Whittier Arch, amidst a frenzied crowd of Latinos and Filipinos.

Unlike other press conferences where a lot of trash talking is the norm, there was none heard at any of the cities where the event was held. But, that is not to say that there was no verbal jabbing at all. Between Pacquiao and De La Hoya, it was pure respect and business. But, that can not be said about Freddie Roach and Nacho Beristain.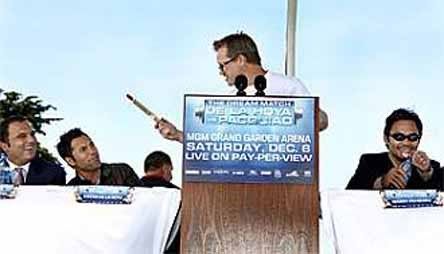 In San Francisco, Roach pulled out a toy gun and stole a bit of the show by telling De La Hoya that he found a gun that belongs to him because "he can't pull the trigger", an obvious reference to Roach's previous description of de la Hoya's remaining skills.

The comments did not sink in too well with Beristain who accused Roach of being disrespectful and his antics being not in good spirit.




Today, Pacquiao and de la Hoya concluded the "tour". East LA was picked by the promoters probably because it is the old stomping grounds of 'The Golden Boy'. Nothing could have been a better pick than East LA to end the tour. The population in this area is predominantly Latino, the very people that could potentially bump up the PPV sales beyond what fight between De La Hoya and Mayweather did. Such, after all, is the true reason why the tour was initiated -- to generate fans interest and increase PPV buys.

At the presscon today, nothing new was said that was not heard before. But, given that and the fact that it was open to the public, a horde of Latino and Filipino boxing fans came to witness the event.

Based on the crowds attracted during the six city tour, Top Rank, GB Promotions and HBO will not have that much of a problem hitting huge PPV sales. It may not overcome what De La Hoya and Mayweather made, but it will surely come very close to it.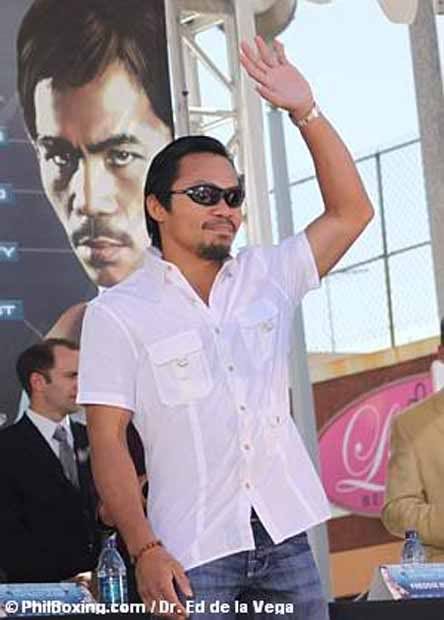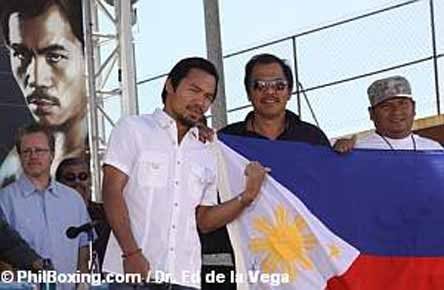 source: Philboxing.com
Sphere: Related Content