This is definitely a funny moment, a bizarre moment and a memorable one. Outgoing U.S. President George W. Bush traveled to Afghanistan where he spoke to U.S. soldiers and Marines at a hangar on the tarmac at Bagram Air Base...then this bizarre, and at the same time funny, thing happened...watch the video



The U.S. president's message on progress in the region was having trouble competing with the videotaped image of the angry Iraqi who hurled his shoes at Bush in a near-miss, shouting in Arabic, "This is your farewell kiss, you dog!" The reporter was later identified as Muntadar al-Zeidi, a correspondent for Al-Baghdadia television, an Iraqi-owned station based in Cairo, Egypt.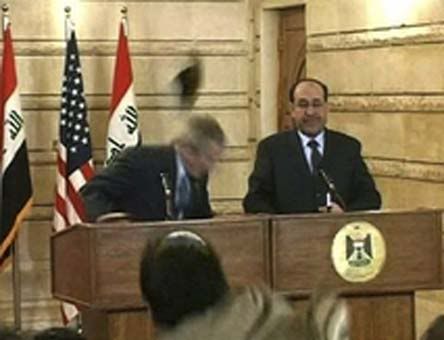 George W. Bush later jokingly told reporters "it was a size 10 shoe" lol, only in America !
Sphere: Related Content