Nothing can contained the media blitz being created every second on the Manny Pacquiao vs. Oscar De La Hoya bout. I, for one, am truly ecstatic on a Manny Pacquiao victory. What truly makes the fight great is the respect and high regard for the Filipino race to be honored in such a way because of the mighty Pacman! Many will be truly devastated if Manny would lose the fight, it's not really about the money as most bozos think man, it's about the Pinoy pride silly.

Here's a snapshot of the unconspicious Manny Pacquiao bus at Koval Lane in Las Vegas, snapshot taken by my brother Darwin on the road of Las Vegas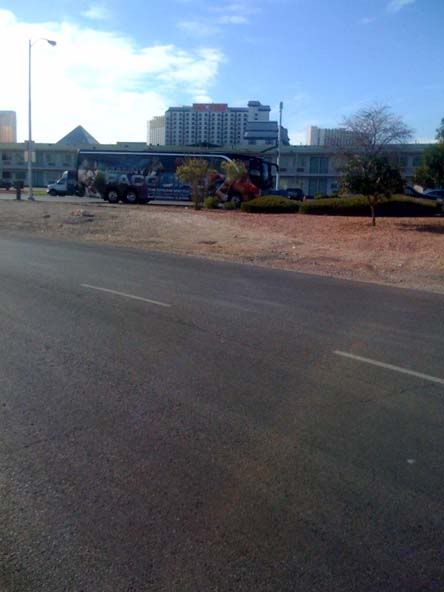 Here are snapshots of newspaper clippings that you'd see on a daily basis, snapshots also taken by my brother who resides in Las Vegas.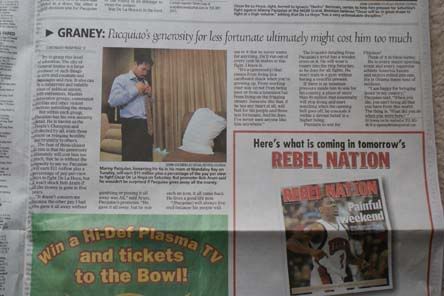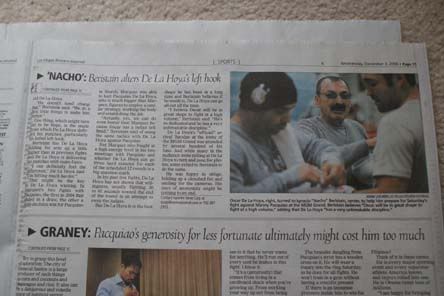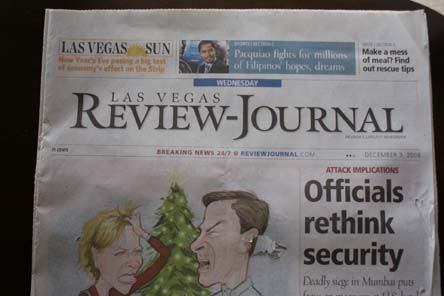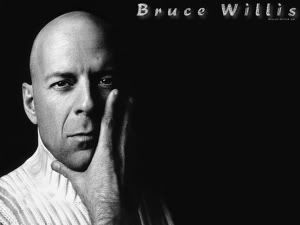 http://philboxing.com/news/story-20484.html
Golden Boy Promotions CEO Richard Schaefer, in an interview with Filipino mediamen yesterday, revealed that Sylvestre Stallone, Russel Crowe, Bruce Willis, Mark Anthony and Jennifer Lopez, Brad Pitt and Angelina Jolie, Mario Lopez, Jorge Lopez, and other stars are slated to show up for the fight.



Sphere: Related Content