We saw 'UNDER THE SEA 3D' at the Imax theater in SM Mall of Asia yesterday, Sunday Sept. 6, 2009. A breathtaking array of sea creatures found in the Coral Triangle (Indonesian area) and the Great Barrier Reef (Australia). What's even more mesmerizing is the true-to-life visual wonder of an Imax 3D.

'UNDER THE SEA 3D' narrated by comedian/actor Jim Carrey who never loses his sense of humor, subtly found in some scenes, in this serious film. It's also an educational film which chronicles the dying of the coral reefs due to the increased in CO2 of global warming. The combination of colorful mosaic of sea creatures and corals and the destruction of their living habitats will give you an awareness that will strike you deep.

The theme song at the end is an upbeat and wonderful version of the Beatles' OCTOPUS'S GARDEN (Composed by Ringo Starr) sang by a Doris Day-like voice. Truly magical but only an hour long film.

Price at the Imax theater is P250 per person. Bring your whole family, you won't regret it and your family will thank you for it.

My Rating : 5 out of 5 Biscuits !

Bonus movie preview is James Cameron's much-awaited sci-fi film AVATAR. This film has amazing visuals and the CGI seems to integrate with the live actors. AVATAR is coming in Imax 3D this December 2009.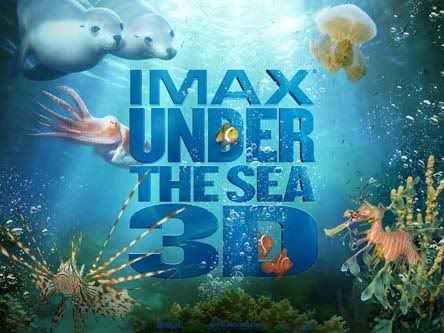 Sphere: Related Content