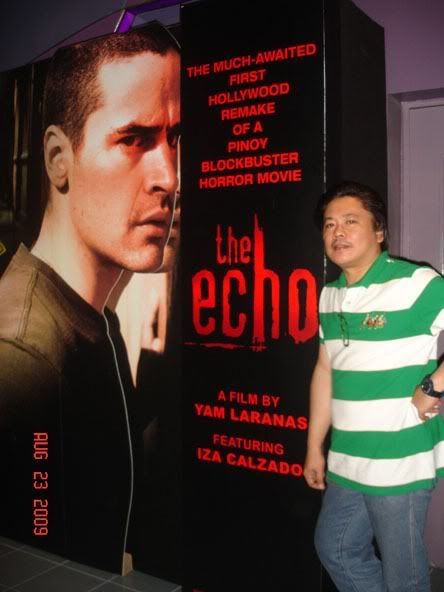 'The Echo' movie standup as seen in the movie hallway of the SM Mall of Asia

Yam Laranas' THE ECHO, a remake of 'Sigaw', will finally be released in Philippine movie theaters on Sept. 23, 2009. But the film won't be shown in U.S. theaters but will be released directly to DVD and Blu-Ray on November 10, 2009.

It's quite disheartening that it won't be seen in U.S. theaters. I was expecting the film to make it big in the U.S. box office similar to the hit remake 'The Ring'.

excerpts from a news article...


US theatrical release

When Yam finished the film's post-production, the US theatrical release seemed imminent. But the wait turned into months. Fans and readers of Yam's blog began asking: "When?" In the meantime, "The Echo" was shown to potential distributors at the Cannes Film Market in May last year. In July, also last year, the film was screened at Fantasia, the Montreal, Canada fantasy and genre film festival. Last May, "The Echo" got its first international theatrical release in South Korea.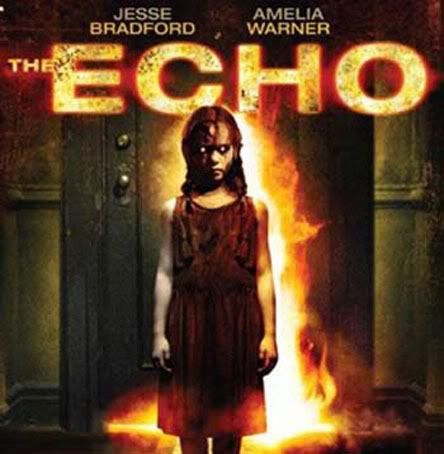 Amazon.com is now offering a pre-order price guarantee of $24.99 for each copy of "The Echo" on DVD or Blu-ray. The package art shows a girl with menacing looking eyes behind a door engulfed in flames. It virtually screams that this is a horror movie. We would have preferred the teaser poster that Yam posted on his blog, the one showing Jesse Bradford listening into a wall with a girl ominously appearing by a door in the background. It captures the quietly eerie and therefore more suspenseful mood that Yam was probably aiming for in "The Echo" (and which he effectively did in "Sigaw").

We're happy that "The Echo" will get a theatrical release in the Philippines. Even with the movie's release on disc in November, we think many Filipinos would still want to experience "The Echo" on the big screen. In an e-mail interview, Yam pointed out: "The experience of seeing it on the big screen literally amplifies the scares. Although the mood of the film can be appreciated in any screen size, nothing beats the impact of the film inside a dark theater."

As for what's in store for moviegoers, especially those who saw and loved "Sigaw," Yam said: "I think they will enjoy this new version. It is much scarier than the original. But fans of the original will also see that the original story line is intact. The mood and paranoia though is heightened in 'The Echo.'"

On Iza, the filmmaker said: "I've always believed that Iza's talent is world class. 'The Echo' is a testimony to that. She played her role with utmost commitment and sincerity. We are all proud of her."

Yam explained about "The Echo" not getting a theatrical distribution in America: "The market has changed for all independently produced films. It all started in Cannes and the American Film Market and all the way to Sundance and Tribeca. Nobody was buying. We are among the casualties. There are also legal issues that our investor and distributor are trying to sort out. Yes, I feel bad about it but I need to see the realities of Hollywood. This is not a unique case and there are worse stories out there."

Screenings abroad

On the movie's distribution in other territories, he said: "As far as I know, there have been screenings in Russia, Bulgaria and Poland. The film will most likely be shown simultaneously in the Philippines and Southeast Asia since the prints come from Thailand. We are also set to be released theatrically soon in several countries in Europe."

article source: showbizandstyle

Sphere: Related Content