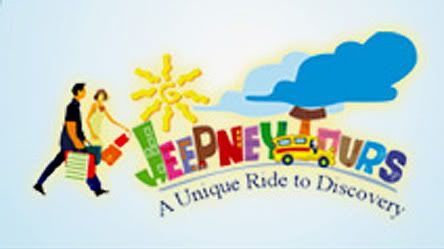 You can't say that you've been to Manila if you haven't had the chance to ride the cultural icon of the Philippines, the jeepney!

The jeepney is a unique transportation that can only be found in the Philippines. It was originally made from the US military jeeps that were left to the Filipinos after World War II. With great Filipino ingenuity, the body was remodeled by adding some metal roofs and decorating it with vibrant colors. It has rapidly emerged as a creative and popular means of public transportation. Tagged as the "King of the Road," it has become an enduring symbol of Philippine pop culture.

Hence, the introduction of the concept of "Jeepney Tours," a breakthrough in Philippine tourism that offers convenient and daily sightseeing tours to travelers staying in five-star hotels who wish to explore the best of Manila. Its main objective is to leave a positive image of the Philippines with every single ride.

The tours will take the travelers on a fascinating tour of the historical and vibrant city of Manila onboard a custom-built air-conditioned jumbo jeepney which can easily seat 20 people. A tour facilitator will join the passengers for the whole duration of the tour to point out interesting landmarks and give you brief backgrounds on the places that are visited.

Stuck in Manila traffic? Fret not! There is a videoke system onboard to keep the guests entertained on the way back. The jeepney has a cooler for storing cold bottled drinks to keep the guests refreshed and hydrated at all times.




Jeepney Tours is an essential introduction to Manila in a fun and informative way and it links the travelers to the main attractions of the city. It is a perfect gift that can be offered to visiting friends and colleagues to experience all the magical sights and sounds of Manila in an entertaining, comfortable, and secure environment.

"Jeepney Tours is a tourism breakthrough that we are extremely proud of. Despite all the challenges, our profound commitment to the tourism industry fueled us to develop a major tourism infrastructure that transports the tourists to a day filled with fascinating experiences, a day packed with cultural learning and beautiful memories that will make them remember the Philippines at its best," says Clang Garcia, managing director of Jeepney Tours.




Jeepney Tours can be booked at major five-star hotels with Thematic Tours (listed below) to choose from:

1. Intramuros: A Cultural Heritage Tour
Metro Manila is the urban capital of the Philippines. Comprised of several bustling cities, it is the country's bastion of modernity and cosmopolitan appeal. Manila is the premier gateway to any destination in the country. It serves its own menu of attractions and activities. Visit Manila and walk the walls of the old historical town of Intramuros and find out for yourself why it is hailed as one of the best preserved medieval cities in the world.

2. Spa and Shopping Spree
Travelers can indulge in purely pleasurable activities as they treat themselves to one fine day in Manila—one of the greatest spa and shopping destinations in Asia! From power spending down to flea market bargaining, one will never run out of options while exploring the malls of Manila, the uncontested shopper's paradise. Tourists can pamper their body after a day of discoveries as they unwind and get the treatment they deserve amidst a relaxing atmosphere of a serene spa. What an exciting way to spend a day in the city!

3. Sunset Cocktail Cruise
Manila Bay is known for its captivating sunset. An extraordinary sight to behold because of the different play of colors decorating the sky. Before sailing away to the cruise, tourists will enjoy a sightseeing tour of Manila en route to the Manila Bay harbor where they will board a yacht to experience a memorable ride with their loved ones. Onboard, guests may explore the wide docks of the yacht, and after watching the sun go down, different wines and beverages will be served as guests enjoy the sea breeze of the cool night. Perfect for couples looking for a special romantic setting, the Sunset Cocktail Cruise is an ideal affair to remember.

4. Pampanga Escapade: Fly, Dine and Spa!
Just a short ride away to the north is the charming province of Pampanga. It is a place mixed with a proud cultural heritage and fast developing sites that cater to the international community. It is also a haven for people who want to experience the leisurely pace of the countryside. Start off your day with an English breakfast followed by a tour of a wine cellar. Then enjoy an Ultra-Light Flying experience, a sumptuous lunch and a rejuvenating spa treatment. Welcome and have a good day! "Makusuelong pamagbisita keni Pampanga."

5. The Charm of Tagaytay
Tagaytay is the perfect day trip destination outside Manila. A scenic drive to the countryside treats the traveler's eye to sights of pineapple plantations, colorful fruit stands, flowers in bloom, ridges, and mountains swathed in green and a breathtaking view of the famous Taal Volcano, the world's smallest volcano. Tour this extraordinary city onboard our jeepney and get to enjoy the superb food of Sonya's English Garden, a walk around and great buys of natural products from the charming honeybee farm and a relaxing treatment at Nurture Spa offering Asian and Filipino healing traditions in native Ifugao huts from the Cordillera province.

For more info about the Jeepney Tours, please contact: Jeepney Tours, Tel. No. (63-2) 994-6636 / 638-6644, e-mail: info@jeepneytours.com, website: www.jeepneytours.com
Sphere: Related Content