Freddie Roach says it is white rice and not steroids that make Manny Pacquiao strong. Also the 'malunggay' leaves in Manny's dishes that makes him stronger.

Floyd Mayweather Sr. accuses Manny Pacquiao of taking substances or power enhancing drugs particularly steroids in the Grand Rapids video interview (posted in the Pinoy Biscuits earlier).

Freddie Roach has also said that Manny Pacquiao was blood tested twice for substances and Manny hasn't tested positive yet.

Also in the video, San Diego Padres declared Manny Pacquiao Day

Here's a video courtsey of 24 Oras which aired Sept. 16, 2009


Snapshots from the video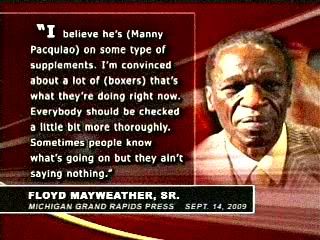 hey Floyd Sr., I hope you get sued for that serious accusations of yours. Please man, don't be sour graping on Manny even though you were made to look bad when Manny knocked out your ward Ricky Hatton on the 2nd round.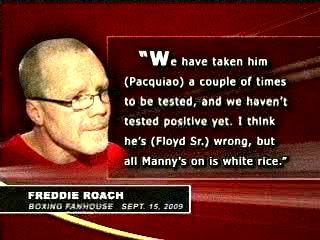 The secret is out, it's white rice and malunggay leaves that makes Manny strong just like Popeye the sailor man who eats spinach !


Sphere: Related Content