Golden Boy Oscar De la Hoya opens its doors to the media at the Big Bear City Training Camp aka Summit Camp. Shown in the video and photos, Oscar De la Hoya in training in preparation for the Dream Match fight with Filipino sensation Manny Pacquiao on Dec. 6, 2008. Video courtesy of 24 Oras and MyBoxingFans.Com and pics courtesy of Philboxing.com

Video from 24 Oras


Video from MyBoxingFans.com


Snapshots from Philboxing.com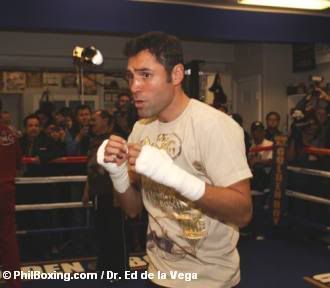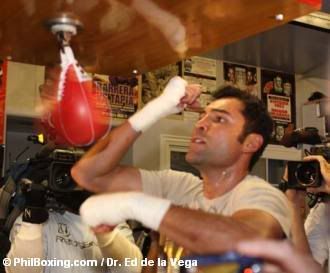 De La Hoya bluish under his right eye. 'Sparring must have been hard."

DCRJ say on this: From the superficial looks of the video with Oscar in training it seems that he's slow in his training showiness in front of the media, well I guess I got used to Pacquiao's termendous hand speed when it comes to showing it off to the media. Anyways, I'll bet all my life savings to the PACMAN...I predict a KO victory by Manny Pacquiao, period.

Sphere: Related Content