This little piggy has roast beef, this little piggy has none, this little piggy says wee wee wee...all the way home ! And that's what Marlon 'The Piggy' Carmen has done...digs his own way home (hopefully to the Philippines) when he showed disrespect to the eldest member of the tribe, Nanay Zita. Kung hindi ka naman ba sira ulo Marlon na patulan mo ang nakakatanda sa 'yo and you showed your disrespect to the elderly in front of the whole Philippines in primetime TV ! Oh Man,(or pig) you're the one who's the deadmeat next elimination round.

Here's a video of the war between 'The Piggy' and Nanay Zita

Part 1 of 2 (The War between the Piggy and Nanay Zita)


Part 2 of 2 (Marlon apologizing to Nanay Zita)


Snapshots from the piggy video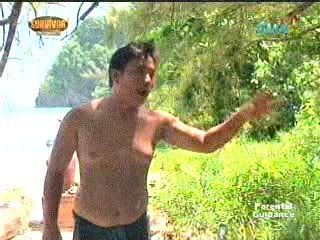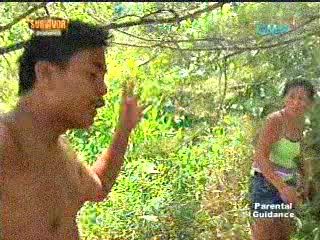 Survivor Philippines has its own Wendy Valdez in the making, it's in a form of a chubby man who strategizes effectively to save himself from the ashes (or asses) of elimination. Like what I have said, Marlon would make a great villain in future GMA-7 shows...let Kiko the hero vs. Marlon the villain in a future super hero show pleaseee!

Sphere: Related Content