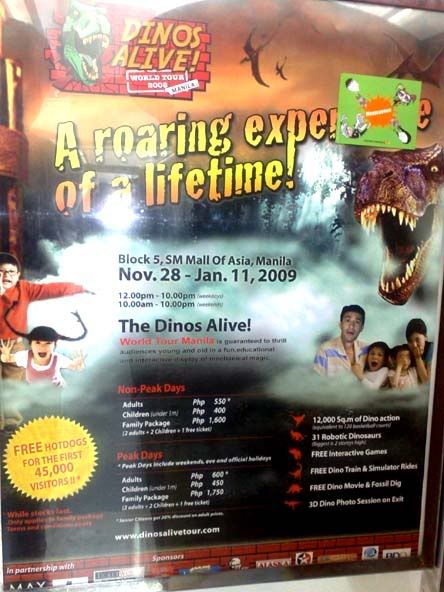 Snapshot poster inside SM Mall of Asia

This 2008, we will be astounded by a visit from the past. Dinosaurs will soon walk back to land and set foot in the Philippines. Dinos Alive! World Tour is set to bring adventure of a lifetime to the Filipino people through these creatures.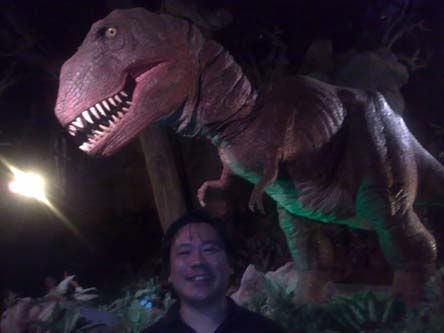 That's me !

The Dinos alive tour is a traveling exhibit which adopts a themed - park environment. An authentic prehistoric recreation of the Jurassic period will display more than 30 life-size robotic dinosaurs including a spectacular 30 feet T-Rex. The place will be set-up to enhance the visitors experience of going back to time wherein these creatures roam the earth with specially designed sound and lighting effects.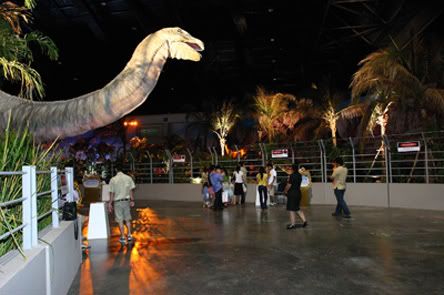 Visitors will also be able to interact with these moving creatures and enjoy other fun and entertaining activities. Kids and grown ups can enjoy in fossil hunting, games, quizzes, rock climbing, a dino inflated playland and more.




Food and drinks will be available for hungry stomachs in a dino-inspired café. There will be retail stores as well selling dinosaur-themed merchandises like T-shirts and toys visitors can carry as souvenirs or bring home to friends and family. You can also have time to capture dino moments with the photo booth set - up inside and together with your dinosaur of choice.

Join the fun of Dinos Alive World Tour here in Manila with your family and friends. Have the kids enjoy a world of discovery and learning. And take time to bond with all the activities offered.




The 'Dinos Alive World Tour - Manila will be set up next to the SM Mall of Asia from 28th November to 11th January, 10am-10pm on weekends and 12pm-10pm on weekdays. Tickets are available for purchase from Ticket World by calling 891-9999 or online at www.ticketworld.com.ph Ticket prices for adults are Php 600, kids below a meter are Php 450 and the family package costs Php 1,750 (2 adults+2 kids+1 free ticket).

For inquiries, contact www.dinosalivetour.com
Sphere: Related Content