You've read it right, Manny Pacquiao will be fighting Oscar de la Hoya or Oscar de la Hoya will be fighting Manny Pacquiao on December 6, 2008.
Well, it's not officially announced yet but several articles are circulating on the internet
Here's a screenshot proof
source:
doghouseboxing.com
De La Hoya-Pacquiao fight is set
The biggest bout in years, supposedly called off 10 days ago, will take place in Las Vegas on Dec. 6.
Bill Dwyre, LA TIMES

1:00 PM PDT, August 27, 2008
The biggest boxing match in years will, indeed, take place. Oscar De La Hoya has agreed to a Dec. 6 match with rising superstar Manny Pacquiao.

The official announcement, barring last-minute reversals, will be made in a conference call Thursday morning.

The match, the grand finale of 35-year-old De La Hoya's unprecedented career as the box-office king in a sport that has survived on his back for more than 10 years without a dominant heavyweight, will be held at the MGM Grand Hotel Garden in Las Vegas. The pay-per-view will be available on HBO.

Ten days ago, Richard Schaefer, De La Hoya's partner in the operation of Golden Boy Promotions, and Pacquiao's promoter Bob Arum of Top Rank had announced that negotiations for the much-anticipated fight had broken down and it would not take place. Schaefer and De La Hoya wanted a 70-30% split of receipts, which would include a projected 2-million-plus pay-per-view buys. Arum and Pacquiao had balked and the deal was off.

In the interim, as recently as two days ago, stories had appeared that the front-runner to replace Pacquiao on De La Hoya's farewell card was promoter Dan Goossen's Paul Williams, who had a victory over Antonio Margarito. Margarito, who is from Mexico, was the recent surprise winner over Miguel Cotto in a fight that was to set up De La Hoya's next opponent.

But when Margarito won, that took the Puerto Rican Cotto out of the picture and De La Hoya had said all along that he did not want his farewell fight to be against a fellow Mexican. De La Hoya, of Mexican heritage, was raised in East Los Angeles and won an Olympic gold medal for the United States.

But the Williams talks apparently were mostly wishful thinking, and De La Hoya agreed to drop his percentage of the take in a Pacquiao bout to a two-thirds/one-third arrangement.

They will fight at 147 pounds.

Pacquiao, 29, the most celebrated and recognized athlete in the Philippines, has won titles at five lower weights and is more comfortable around 136-140 pounds. De La Hoya has won multiple titles and is more comfortable around 154.

The largest pay-per-view fight in boxing history was the 2007 match between De La Hoya and Floyd Mayweather Jr., won by the now-retired Mayweather. That drew 2.4 million buys. De La Hoya previously was involved in the largest non-heavyweight pay-per-view fight when he suffered his first loss, in 1999, against Felix Trinidad.

De La Hoya will take a record of 39-5 with 30 knockouts into the fight. Pacquiao's record is 47-3-2, with 35 knockouts.

latimes.com

Sources: De La Hoya, Pacquiao agree to Dec. 6 fight in Vegas

By Dan Rafael
ESPN.com
Updated: August 27, 2008, 1:13 PM ET

Oscar De La Hoya, boxing's biggest star, will announce Thursday that he will meet pound-for-pound king Manny Pacquiao on Dec. 6, two sources close to the fight told ESPN.com.

Top Rank's Bob Arum, whose company promotes Pacquiao, would not confirm a deal was in place for what would be the year's biggest fight, but he did tell ESPN.com that De La Hoya would host a media teleconference at 2 p.m. ET on Thursday to announce his opponent.

"We'll know who is he is fighting tomorrow," Arum said Wednesday from Youngstown, Ohio, where he was attending a promotional event for the Kelly Pavlik-Bernard Hopkins fight that he is co-promoting with De La Hoya's Golden Boy Promotions. "I made a commitment that I wouldn't say anything and that tomorrow there would be an announcement. I'm not allowed to make any comments. Everything will be clear on Thursday."

Golden Boy CEO Richard Schaefer would not confirm the deal, either, but sounded positive when asked about it.

"Last week the deal was 90 percent dead, but we were able to revive it. The fact that it has been so quiet is a good sign," Schaefer said from Mexico, where he was traveling on business with De La Hoya. "It's been a lot of back and forth and skillful negotiating and to try to get each side to soften their stance. If the fight was Arum vs. Schaefer, it would have been made awhile ago."

Schaefer dismissed reports this week that welterweight titleholder Paul Williams was under serious consideration to meet De La Hoya. Schaefer said that although Williams' name was thrown out during an internal meeting, it was quickly dismissed, and no contact was ever made between the De La Hoya and Williams camps. Williams promoter Dan Goossen confirmed that as well.

De La Hoya (39-5, 30 KOs), who has repeatedly said the December fight would be the last bout of his storied career in which he's won world titles in six weight divisions, has been in talks with Pacquiao (47-3-2, 35 KOs) for weeks. But negotiations got bogged down when the sides could not come to an agreement on how to split the revenue, which is expected to exceed more than $100 million.

De La Hoya stood firm for weeks on a 70-30 split in his favor; Pacquiao was demanding a 40 percent slice of the pie.

The rest of the major issues, from the maximum weight to the size of the gloves, were agreed upon, with Pacquiao getting his way on a 147-pound weight limit and 8-ounce gloves.

The percentage split that De La Hoya and Pacquiao have apparently agreed to is unclear.

Freddie Roach, Pacquiao's trainer and one of De La Hoya's former trainers, has been an outspoken advocate of the fight, going so far as to say he would train Pacquiao for free because he was so confident he would win.

Roach told ESPN.com on Wednesday that Pacquiao, whom he hadn't spoken to much recently, left him two voice mails about 7 a.m. ET.

"He left me the messages and at the end of one of them, he said, 'Thanks for all your help.' I read that as the fight is done," Roach said.

Pacquiao, a lightweight titleholder who has won belts in five weight classes and is the national icon of the Philippines, would move up to welterweight for the showdown with De La Hoya.

The fight is expected to take place at the MGM Grand in Las Vegas, where De La Hoya has fought five of his past six bouts and seven of his past 10.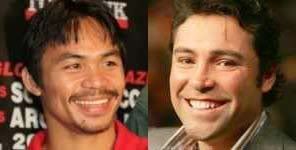 Brace yourself for the biggest typhoon to hit the Philippine shore on December 6, 2008

(now, which network would telecast the fight ? ABS-CBN or GMA-7 ? bwahahahaha)
Sphere: Related Content