I had to attend an 18th Birthday of my niece at the same time the 'Kapuso Mo, Jessica Soho' video segement was aired. Luckily I had my timer of my PC TV Tuner to record the 'Kapuso Mo, Jessica Soho' segment which featured the wacky tandem of Moymoy Palaboy and Roadfill in a segment called The Lipsynchers. Although the audio is a bit off (out of synch) the image quality is good. Here's the video...



Here are some snapshots from the 'Kapuso Mo, Jessica Soho' video segment...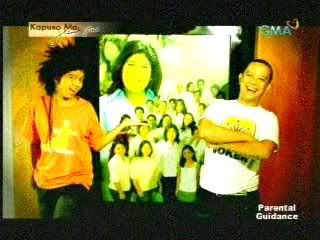 Kapuso Mo, Jessica Soho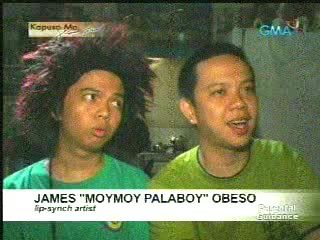 Here they are setting up their 'studio' with just a camera cellphone to record their lipsynchings of popular songs then uploaded to YouTube. Their current videos in YouTubes have already garnered 7,000,000 hits combined and still going strong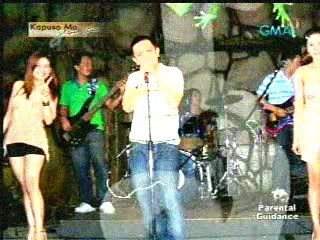 Did ya know that Moymoy Palaboy aka James Obesa is a professional singer ? He had to temporarily stay off from the PASSIONISTA band in order to fulfill his contract with GMA-7 and MTV Philippines as the newest talented kid on the block with his brother Roadfill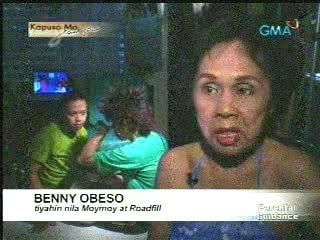 Their Mama Auntie also became famous as the lady who minded her own business in many of moymoy palaboy's homemade videos which made their videos more hilarious. The 'Mama Auntie' you see at the backdrop in the Bubble Gang videos were all mimicked by almost all of the Bubble Gang casts such as Diego, Rufa Mae Quinto, Boy2 Quizon and Antonio Aquitania.

Sphere: Related Content