Noli de Castro tops the list in the latest SWS (Social Weather Station) Survey for President of the Philippines in 2010. Loren Legarda, 2nd while Manny Villar is 3rd.



Some snapshots from the video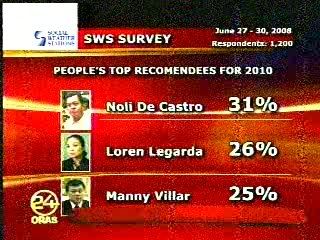 DCRJ's say on this: even if these surveys doesn't reflect the real sentiments of the general voting public it does sets into the subconcious minds of the people who are the popular presidentiables. Yup, nobody comissioned the SWS to release these reports as reported on 24 Oras but it indirectly gives free advertisement and promotion.
Sphere: Related Content