Watching Anthony Bourdain's No Reservations on TV brought memories on my visit to sunny Singapore last March of 2007. Fond memories of the delectable Singaporean Chili Crabs made me crave for some. Chili crab is a famous seafood dish served in Singapore. It is made with hard-shell crabs, and cooked in a thick gravy with a tomato chili base.

I still don't know if the Chili Crabs are invented by the Malaysians or Singaporeans but I do know that it really tastes good. Forget about Sentosa, forget about the Singapore Sling, a visit to Singapore wouldn't be complete if you haven't taste those Chili Crabs. No wonder the Chili Crab is regarded as the National Dish of Singapore.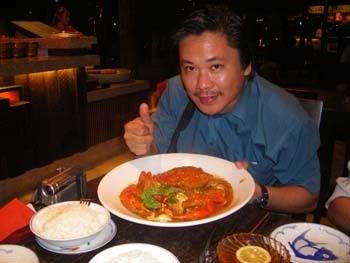 This is me holding the 46 singaporean dollar plate of Chili Crab at the Singapore Night Safari theme park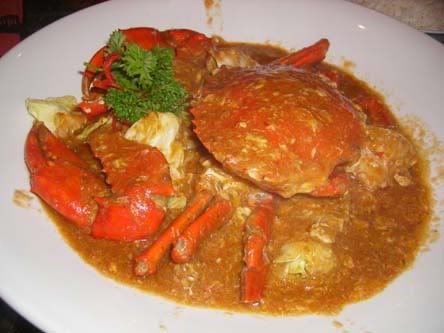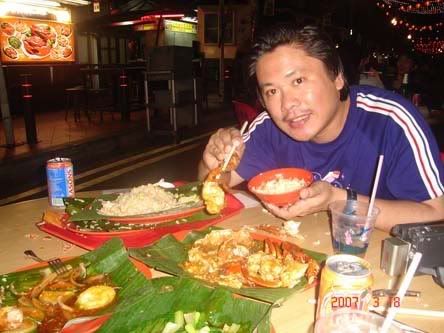 After a day later, we went to the Kopitiam area in Jackson Road, Singapore and ordered again the delectable Chili Crab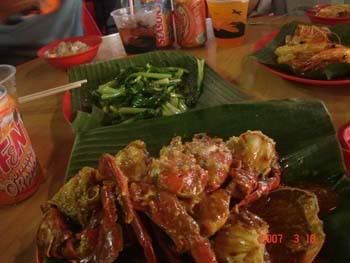 Here's the
Chili Crab
recipe:
Ingredients
1 lb (450g) mud crabs or soft shelled crabs
4 tbsp plain flour if using soft shelled crabs
3 tbsp vegetable oil*
8 cloves garlic, roughly chopped
8 fresh red chilli, roughly chopped
1 egg
2 spring onions (scallions), cut into finger length
1 tsp freshly squeezed lime or lemon juice
1 small bunch coriander plant (cilantro)
*For soft-shelled crabs, oil for deep frying
Mix together for Sauce
1 cup of water, 5 tbsp tomato catsup, 1 1/2 to 3 tbsp sugar, or according to taste, 1 1/2 tsp cornflour, 1 tsp pounded brown preserved soya beans or dark miso (optional), 1/4 tsp salt
Method
Heat the oil in a wok or shallow saucepan over high heat. Add garlic and stir-fry for 1 minute. Add the chilli, stir-fry till fragrant. For mud crabs, add at this stage. Fry well till shells start turning red, add sauce ingredients stir well, cover with lid and simmer till shells are red. Break eggs into the wok and streak with a fork, simmer till cooked. Squeeze lime juice over and stir in scallions. For soft-shelled crabs, cut each crab into four, dry well, dredge in flour and deep fry till golden brown and crispy. Make the sauce as above, but omit the mud crabs. Toss soft shelled crabs in sauce just before serving.
recipe source :
visitsingapore.com
Here's a video of Anthony Bordain, celebrity chef of New York who visited Singapore for the 7th time (zero visits to the Philippines), in 'No Reservations' featuring the Singaporean Chili Crabs and more. Recorded and uploaded to YouTube today by yours truly.


Sphere: Related Content