"Look Ma, Manny is on the cover of RING MAGAZINE, the Bible of Boxing"

"Son, that's because Manny Pacquiao is now the OFFICIAL Pound-for-Pound on the planet right now, and Oscar de la Hoya isn't even included in the top ten pound-for-pound list...bwahahahaha"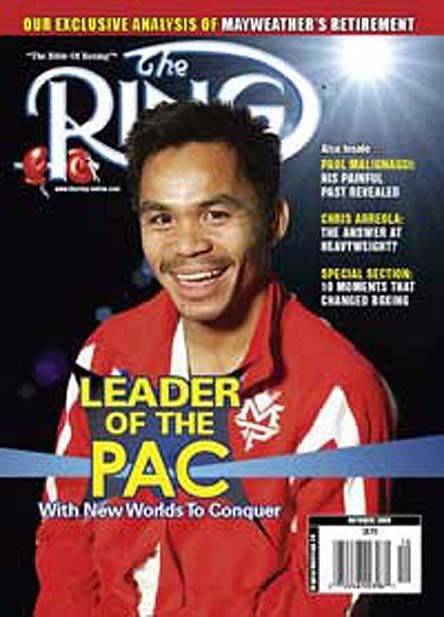 (on sale August 26, 2008)
http://www.thering-online.com/

"Son, if any fighter who would like to retire with a bang he should fight Manny Pacquiao, why ? just look at the top ten lists for pound-for-pound below"
1. MANNY PACQUIAO
LIGHTWEIGHT
2. JOE CALZAGHE
SUPER MIDDLEWEIGHT/LIGHT HEAVYWEIGHT
3. JUAN MANUEL MARQUEZ
JUNIOR LIGHTWEIGHT
4. BERNARD HOPKINS
LIGHT HEAVYWEIGHT
5. ISRAEL VAZQUEZ
JUNIOR FEATHERWEIGHT
6. ANTONIO MARGARITO
WELTERWEIGHT
7. KELLY PAVLIK
MIDDLEWEIGHT
8. CRISTIAN MIJARES
JUNIOR BANTAMWEIGHT
9. RAFAEL MARQUEZ
JUNIOR FEATHERWEIGHT
10. MIGUEL COTTO
WELTERWEIGHT.
"That is sooo cool Ma, Manny is on top of the world right now and Oscar de la Hoya is not even in the top ten list. Oscar de la Hoya should really be fighting Manny Pacqquiao on December 6, because if Oscar beats Manny then Oscar would be number one...is that right Ma?"
"That's right son, if he defeats Manny then he would go out in retirement as the Number one pound-for-pound on the planet"
"yeah!"
Sphere: Related Content