Oscar de la Hoya sets Thursday, August 28, 2008 (Friday, August 29 Manila Time) for the announcement of the chosen one he'll be facing for his farewell fight on December 6, 2008. Will it be Manny Pacquiao or not ?, that's the million dollar (or Philippine Peso) question.

The 411mania.com article (screenshot below) is already enough to whet any boxing fan's appetite including yours truly.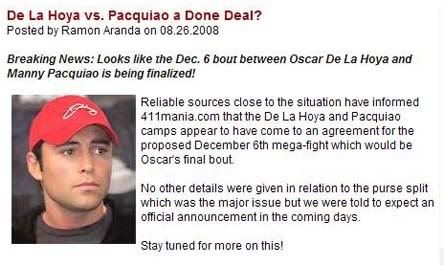 Upon reading the article my heart-rate increased with heart pounding excitement. Patience is one of my virtues but when it comes to the Pacquiao-vs-dela Hoya dream bout, I don't have an ounce of it. Hopefully the dream bout would push thru, as I've said it's not really about the millions of dollars but its priceless LEGACY for both men. Let's bring 'em on !


Sphere: Related Content