It all started with a joke on what would happen if Oscar dela Hoya fights Manny Pacquiao. Celebrated trainer Freddie Roach laughed at the idea and he even joked that he would train both Oscar and Manny at the same time and alternatingly be at the corners of both men on fight night. Pacquiao vs. De la Hoya, ludricous as it may sound not only because of their size discrepancy but both fighters came from extreme weight divisions, Pacquiao from flyweight to lightweight while De la Hoya from Super Featherweight to Middleweight. We could only dream of that fight and play it on our Playstation 2 until today. Now, who would have expected that these two men would face each other inside the ring, it's already a done deal and all we need is to hear the official announcement of the Pacquiao-Dela Hoya fight a few hours from now.

I never pitted Manny Pacquiao with Oscar de la Hoya in 'Fight Night' on my Playstation 2, I wish I had. I did pitted Manny Pacquiao with Erik Morales in 'Fight Night' and Manny clobbered Erik Morales just like in their real life 3rd match-up. Here are some snapshots...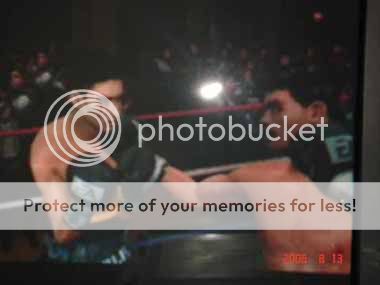 In the middle of Round 10 , The Pacman went for the kill, with a stunning right hook to the el terrible's left chin, how terrible indeed !
Erik went on his knees literally !
Erik Morales desperately tried to stand up


f

earing he might be beaten down again by the Pacman...




..Morales tried to play dead, Hail for the Pacman, just like in real life.

Just for the fun of it, will the Fight Night stats of Manny Pacquiao and Oscar De la Hoya merit their stats in real life ? or have you already pitted the two in Fight Night ? I remember the latest (hopefully, the last) Rocky film 'Rocky Balboa' of Sylvester Stallone where Mason 'The Line' Dixon, younger champ in the movie, was insulted and challenged when he was defeated by an older Rocky Balboa in a video game match-up. Real-life is stranger than reel-life, the Manny Pacquiao vs. Oscar De la Hoya bout could be applied for that real-life strangeness.
In addition to the difference in physical attributes, fighting styles, speed and power Oscar says it's a personal matter, he wants revenge for all the Mexicans who got defeated in the hands of the Pacman and on issues concerning the spoiled fight contract of Manny with the Golden Boy. Whatever the reasons, it's not always about the money, it's the legacy of both men that's being shaped.
Sphere: Related Content