The Pinoy wacky tandem of Moymoy Palaboy & Roadfill who gained popularity in YouTube with their homemade lipsynch videos of popular hit tunes are also making waves in Mexico, home of the aztec warriors. Here's the video proof...

Moymoy - Girlfriend, en television mexicana
en el programa HitM3 de tv azteca



http://www.youtube.com/watch?v=KVuqaX8r6xA

Moymoy Palaboy & Roadfill currently can be seen in the Philippines' longest comedy show called BUBBLE GANG which aired every Friday night on GMA-7.

***********************

All of the Moymoy Palaboy videos I recorded from Bubble Gang garnered a number of honors in YouTube, that goes to show how popular the Pinoy tandems are not only in the Philippines but also in Taiwan, South Korea, Mexico and other Latin American countries, here's proof snapshot below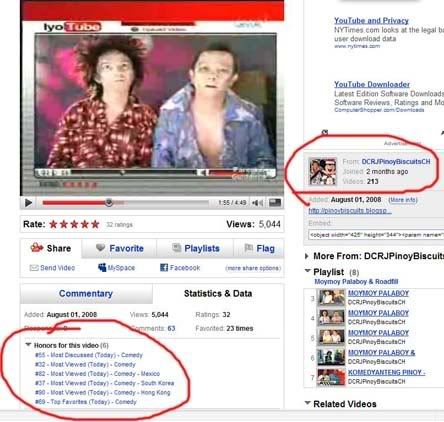 I won't be surprise if ever they will be invited and appear in tv shows in Mexico ! Viva Moymoy !

Sphere: Related Content