posted on Monday April 14, 2008 on ClickTheCity.com
http://guides.clickthecity.com/movies/?p=3000

Recently named as one of Time Magazine's Top 100 Most Influential People, Korean pop sensation Rain is out to conquer the world as he makes his American film debut in Warner Bros.' high-octane, family adventure "Speed Racer" from directors Wachowski brothers ("The Matrix" trilogy).

Based on the classic series created by anime pioneer Tatsuo Yoshida, the live-action "Speed Racer" showcases the kind of revolutionary visual effects and cutting-edge storytelling that have become benchmarks of the Wachowski brothers' films.





Rain plays Taejo Togokahn, a top race car driver, who teams with Speed Racer (Emile Hirsch) and the mysterious driver known as Racer X (Matthew Fox) to win a death-defying cross-country race known as the Crucible.

"I think people are going to be blown away by Rain in this film. He has a great presence onscreen that just commands your attention," producer Joel Silver states.

Rain's Taejo is forced to defend his family name when they are threatened by evil empire, Royalton Industries. "Togokahn Motors has been in Taejo's family for five generations," notes Rain. "Racing in the World Racing League has changed a great deal over the generations since Taejo's family started the business. There used to be a certain nobility about the sport and the drivers, but now everything seems to be about image, branding and profits. Like Speed, my character is out to protect the family business."






Rain is a top Korean R&B/pop singer whom Time Magazine named one of the "100 Most Influential People Who Shape Our World" in 2006; in 2007 People Magazine included him in their annual "Most Beautiful People" issue.

He starred in the 2004 drama series "Full House," which became one of the highest-rated Korean dramas of all time, enjoyed broadcast exposure in many countries and brought him the Best Actor Award. While shooting the 2005 miniseries "A Love To Kill," Rain's headstrong approach to the challenging role made him a more versatile actor. Rain's third album, "It's Raining," sold over one million copies in Asia, making it his most successful album to date both domestically and internationally, and the subsequent "Rainy Day" concert tour was a success in Korea, Japan, China, Taiwan and the United States, featuring two shows at New York City's Madison Square Garden. "Rain's World," the performer's fourth album, was released in 2006 and led to the highly acclaimed "Rain's Coming" World Tour.

Rain made his feature film debut in "I'm a Cyborg, But That's OK" which won the Alfred Bauer prize at the 2007 Berlin Film Festival. He is currently shooting the action film "Ninja Assassin," which re-teams him with producers Joel Silver, Andy Wachowski and Larry Wachowski.

************

from Wikipedia.org http://en.wikipedia.org/wiki/Rain_%28entertainer%29
Rain (Real name: Jeong Ji-hoon , born on 25 June 1982 in Seoul) is a male Korean pop singer, dancer, model, and actor.

In April 2006, he was mentioned in the Time magazine website article that named the "100 Most Influential People Who Shape Our World."In 2007, Rain topped Time Magazine's online user poll, although he was not in the magazine's actual list. He has an ongoing feud with Stephen T. Colbert for the top spot. He also made it into People's 2007 list of the "Most Beautiful People" in the world.

Here are some snapshots I took from my DVD collection of 'Full House' starring Rain and the lovely Song Hye-kyo...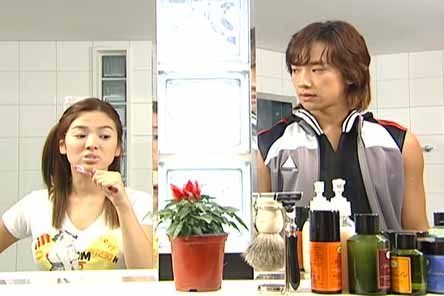 Full House was shown on the Kapuso network GMA-7 in the Philippines on 2005 and has its rerun in the afternoon slot in 2006.

There are talks that a Philippine version of 'Full House' is in the making which will star Kapuso network talents Richard Gutierrez and Marian Rivera...this I got to see !
Sphere: Related Content