Claire de la Fuente is a Filipino singer in the 70's who achieved celebrity status with the jukebox hit "Sayang". She was dubbed "the Karen Carpenter of the Philippines" as her voice has a striking resemblance to that of the late singer. Her first album in 1977 was then the Philippines' biggest-ever seller. She went on to make 7 more albums. Besides "Sayang", she is also known for hits like "Minsan-Minsan" and "Nakaw Na Pag-ibig".



Teaming-up with Richard Carpenter

(excerpt from Fanfare by Ricky Lo)
Last Dec. 7, 2007 Claire dela Fuente has recorded Something in Your Eyes, the song Richard Carpenter composed for his sister Karen in the '80s. Karen died of complications from anorexia nervosa before she could record the song.

"I learned that Richard had been keeping the song while waiting for the right alto to sing it," recalled Claire (The Karen Carpenter of the Philippines) who got Richard's nod early last month when she sang it for Richard, who accompanied her on the piano, during a hastily-scheduled visit to Richard's home at the North Ranch Club, Thousand Oaks, Los Angeles, last Dec. 3. "I was told that several others 'auditioned' for the song pero walang nagustuhan si Richard. "

Well, it's in the can. Claire has recorded the song, also in L. A., as carrier single of her new album to be released on Feb. 18 (tentative date) by Viva Records. The good news is that Richard has agreed to come for the launch.

"Everything feels like a dream," said the euphoric Claire in an exclusive interview with Funfare Saturday night after she received the good news from Viva big boss Vic del Rosario Jr. "Up to now, I still can't believe that all this is happening. Can you imagine naman, it's the first time for a major foreign artist to grace the launch of the album of a local artist. I'm so proud. He makes me feel so important. "

US record producer Christian de Walden (distributor of Freddie Aguilar's Anak in the international market) was instrumental in making Claire's "impossible" dream come true. Boss Vic introduced Claire to Christian who then introduced Claire to Pamela Phillips Oland, lyricist of The Carpenters. Oland heard Claire sing and she was impressed. With the guidance of Oland, Claire did a demo-tape of Something in Your Eyes and she brought it with her when she dropped by Richard's home, together with Christian, Pamela and Teresita Marbibi (Claire's lawyer).

Recounted Claire, "Richard was going to a tennis game and, although he agreed to see us for only a few minutes, we stayed in his place for almost an hour. He entertained us at his basement studio. Nagkalat ang kanyang mga awards at trophies. The walls are covered by memorable framed photos, laminated citations and gold-record awards. Hindi ako makapaniwala that he gave us so much importance. "

It was Pamela who told Richard about Claire who first gained fame when she sang the jingle for Hope cigaret sounding intriguingly like Karen Carpenter. It was that jingle which launched Claire's career in the '80s. Hearing Pamela's stories about Claire, Richard got excited and, without much ado and especially after hearing Claire sing, he readily agreed to give his precious composition to Claire.

"Before we left," Claire continued, "I asked Richard, 'Can I hug you?' He smiled and said, 'Oh yes, after that wonderful thing that you did to my song!' And then, he hugged me. "

Actually, according to Claire, she noticed that Richard was misty-eyed as he listened to her sing.

"As soon as I finished singing, he stopped playing the piano, turned around and said, 'Wonderful, wonderful! You have a beautiful, husky voice!' Pamela told me that she saw Richard's face turn red. Bakit kaya? I guess he remembered Karen. "

A few days later, Claire attended a Christmas party hosted by Pamela.

"I was asked by a guest, who happened to be a Hollywood producer, if I fully understood what was happening. I said, 'Yes. ' Then, she said, 'He is a living legend. For you to have been able to impress him, wow, you must be something, Honey!' She said that Richard is somewhat shy and he stays away from people, and you can't just go near him. So I felt flattered and honored all the more that he welcomed us at his home. "

Maybe it helped that Richard's personal assistant, named Lissette, is a Filipina who kept saying, "I'm your fan, I'm your fan!" as she opened the door and ushered Claire's group into the basement studio.

Pamela told Richard that she just came from a cruise with a mostly Filipino crew.

"When I told them that I was working with Claire, they chorused, 'She's a legend!' Look at her," Pamela told Richard, "she's a legend and she's so modest. " Richard smiled. "I know. "

Told that Claire's album is a collaboration among A-list musicians, using 95 percent "live" instruments, he said, "Oh, that's great!" I'm happy to hear that!"

The pianist is Randy Waldmann, musical director of Barbra Streisand, and the drummer is John Robinson who is also the drummer of Barbra and Michael Jackson. The acoustic-guitarist is Parks who has worked with Josh Groban and the guitarist is James Hara who always performs with Madonna on her tour.

Claire said that Richard will stay here for three to four days, along with his wife Mary, Pamela and Christian.

The album will be mixed in Italy.

"Hopefully, we'll start the radio promo for Something in Your Eyes by Jan. 26. Also included in the album is If I Dream Without You, composed by my son Gigo (de Guzman, 21) with lyrics by Pamela who is sponsoring his membership in the US Songwriters Guild. "

article source: http://telebisyon.net/balita/Richard-Carpenter-coming-for-Claires-album-launch/artikulo/6380/



Richard Carpenter plays the piano in Malacanang Palace as Gloria Macapagal-Arroyo sings one of the lesser known song by Richard Carpenter. Claire dela Fuente looks on. February 14, 2008.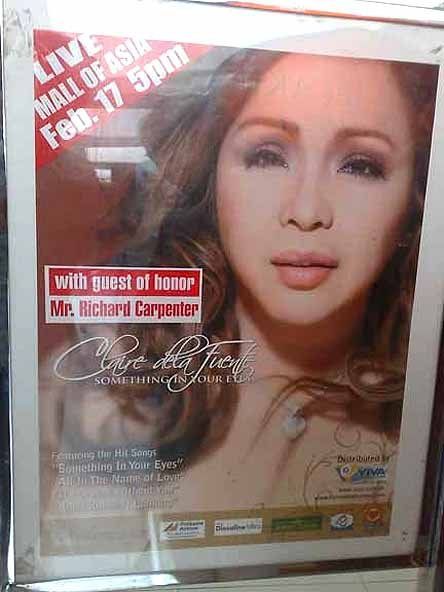 I happened to be at the SM Mall of Asia last Feb. 17, 2008 and I saw this posster.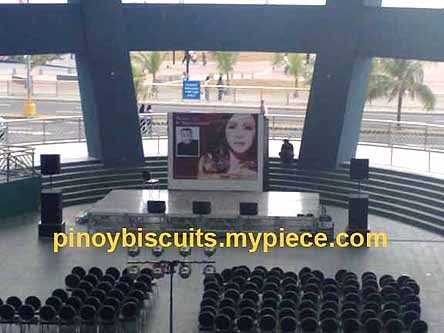 We bought movie tickets for 'The Spiderwick Chronicles' at Cinema 4 for the 1:40pm showing, while waiting for the movie to start I took a snapshot of this...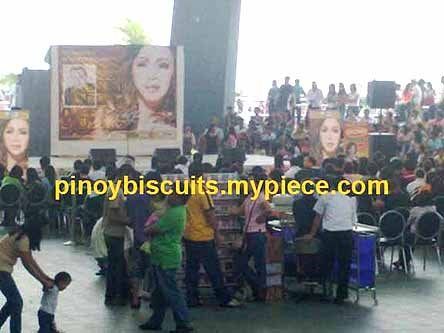 People began to file up...actually I am more excited to see Richard Carpenter than Claire dela Fuente. The Carpenters has been my favorite music icons since the 1970s and early 80s.



Claire dela Fuente and Richard Carpenter. Richard Carpenter is 57 years old. Her late sister Karen Carpenter died in 1983 from complications of an eating disorder called Anorexia Nervosa.



Claire dela Fuente sang one of her songs in her launching album 'Something In Your Eyes'. Her song was composed by Richard Carpenter

Claire dela Fuente was regarded as 'the Karen Carpenter of the Philippines' perhaps this was the reason why Richard Carpenter is in full support of Claire dela Fuente...she sounds just like her sister !



Richard Carpenter together with his wife sitting in front



Claire dela Fuente sings 'Something In Your Eyes' as she serenade the song's composer Richard Carpenter

It's amazing to think after all the decades when Richard Carpenter and Claire dela Fuente both music icons in their respective country have teamed up just now.

it's only fitting Claire dela Fuente deservingly be recognized not only here but also abroad. Richard Carpenter must've felt the warmth of his sister, at least in Claire dela Fuente's voice, once again.




Here's the official video of Claire dela Fuente & Richard Carpenter's 'Something In Your Eyes' from YouTube username gigodg


http://youtube.com/watch?v=DcOvP2jbYGA
Sphere: Related Content