Hooters is now open in the Philippines.



Photo courtesy of sir Anton Diaz of Our Awesome Planet http://anton.blogs.com/


But first, a brief history.

Hooters is the trade name of two privately held American restaurant chains: Hooters of America, Incorporated, based in Atlanta, Georgia, and Hooters, Incorporated, based in Clearwater, Florida. Between company owned locations and franchises, there are now more than 435 Hooters restaurants in 46 U.S. states and 23 other countries, including the PHILIPPINES.



A Hooters Girl, typical white 'sando' and orange mini shorts

A Hooters Girl is a waitress employed by the Hooters restaurant chain. They are instantly recognizable by their uniform of a white tank top with the Hooters owl logo and the location name on the front paired with the famously short orange runner's shorts.

HOOTERS opens in Manila Bay, Esplanade, SM Mall of Asia in Pasay City, Philippines.

Unang Balita's Rhea Santos reports the opening of Hooters in Manila (photo below)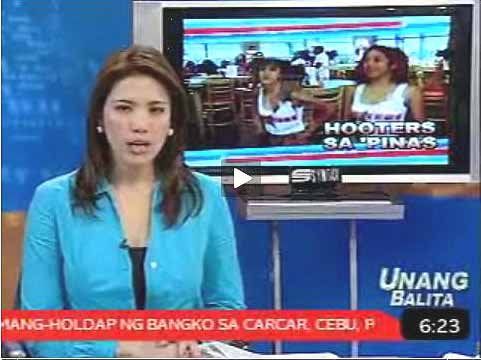 The blond Hooters Girls are in Manila to train the Hooters Girls in the Philippines. The blond Hooters Girls will leave Manila on May 2, 2008 so the best time to go there is now.



A cute Pinay Hooters Girl is being interviewed



Eric Gutierrez, Manager of Hooters Bar and Restaurant, says Hooters Philippines is a fun family place where you can take the whole family with you despite Gabriela, a Philippine Women's Activist group, which questions the Hooters franchise for women exploitation.



gotta try those wings...chicken wings that is ! :)
Sphere: Related Content