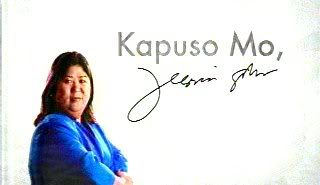 I thoroughly enjoy every 'Kapuso Mo, Jessica Soho' episode since day one because of its magazine style in format. I have recorded some episodes and uploaded it to YouTube for archiving purposes, I still pray that GMA-7 won't do anything to intervene with those uploads as some copyrighted issues and all, after-all I am doing them a favor by subconciously promoting their shows, am I right?

Anyways, I recorded a 'Kapuso Mo, Jessica Soho' episode last night, in fact I recorded the whole hour of it. The following morning, I was uploading the first segment of the show at YouTube when a certain YouTube user named 'noemidado' messaged me and requested for an upload of the 'blogging' segment.

The 'blogging' segment is about the power of making blogs not only to communicate with the world and make some money out of it but also by its therapeutic value. Let's take the case of Mrs. Noemi Lardizabal-Dado who was featured in the 'blogging' segment. Her son Luijoe died of drowning in a swimming pool on May 27, 2000 which was reenacted in the show. Mrs Noemi Lardizabal-Dado was able to slowly cope with the tragic loss of her son by means of blogging, writing (or typing) her thoughts and feelings on her blog therapeutically.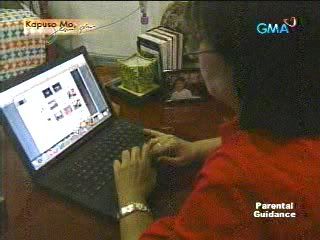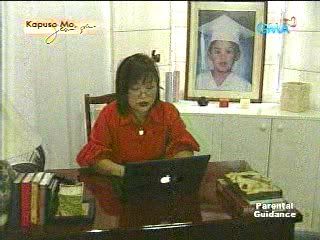 I've found out later that the 'noemidado' who messaged me is Mrs. Noemi Lardizabal-Dado herself. She told me that she was videotaping the Jessica Soho episode on TV but her video battery died down. Mrs. Dado had already posted my uploaded Jessica Soho videos on her blog site 'Touched By An Angel' (thanks, ma'am Noemi). After reading her article on her site I've found out that the episode has some interesting tidbits:

1. The producer of 'Kapuso Mo, Jessica Soho' didn't ask permission from Mrs. Dado about the swimming pool reenactment who had a kid similar to the face of Luijoe. She wasn't happy about the reenactment scene but she enjoys 'Kapuso Mo, Jessica Soho'.

2. Her website 'Touched By An Angel: A Mother's Recovery Notes' wasn't solely about her son Luijoe as reported in the Jessica Soho show but also about her advocacy and other interesting topics.

3. Rarely can you find (or maybe it's just me) a snapshot of the behind-the-scene Jessica Soho TV crew taken by the featured subject, in this case, Mrs. Noemi herself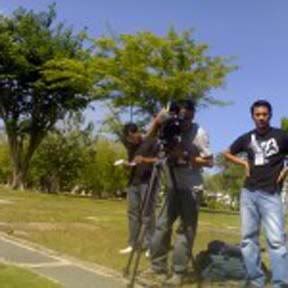 Photo courtesy of Mrs. Noemi Lardizabal-Dado

4. Here's another snapshot, a TV crew filming Mrs. Noemi Lardizabal-Dado in the 'blogging' segment of 'Kapuso Mo, Jessica Soho'



Photo courtesy of Mrs. Noemi Lardizabal-Dado

Mrs. Noemi Lardizabal-Dado's articles about the Jessica Soho 'blogging' episode can be found here...
http://aboutmyrecovery.com/2008/04/23/blogging-in-a-cemetery/

http://aboutmyrecovery.com/2008/04/27/kapuso-mo-jessica-soho-features-blogging/

Touched By An Angel: A Mother's Recovery Notes --> http://aboutmyrecovery.com/

Here's the 'Kapuso Mo, Jessica Soho' BLOGGING with Mrs. Noemi Lardizabal-Dado in a segment episode that I have recorded and uploaded to Imeem

KAPUSO MO, JESSICA SOHO - BLOGGINGS Part 1/2 - 4/26/08



************************

KAPUSO MO, JESSICA SOHO - BLOGGINGS Part 2/2 - 4/26/08



************************

Mrs. Noemi Lardizabal-Dado will be featured again on Proudly Filipina hosted by Charlene Gonzales to be shown on May 2, Friday night, 7:00 PM, QTV Channel 24 in Skycable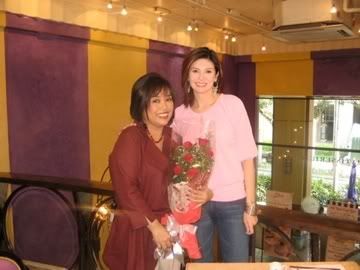 Photo courtesy of Mrs. Noemi Lardizabal-Dado
Sphere: Related Content