Hollywood legend Charlton Heston dies at 84
exerpt from this article: http://edition.cnn.com/2008/SHOWBIZ/04/06/heston.dead.ap/index.html?section=cnn_latest

LOS ANGELES, California (AP) -- Charlton Heston, who won the 1959 best actor Oscar as the chariot-racing "Ben-Hur" and portrayed Moses, Michelangelo, El Cid and other figures in movie epics of the '50s and '60s, has died. He was 84.

The actor died Saturday night at his home in Beverly Hills with his wife Lydia at his side, family spokesman Bill Powers said.

"Charlton Heston was seen by the world as larger than life. He was known for his chiseled jaw, broad shoulders and resonating voice, and, of course, for the roles he played," Heston's family said in a statement. "No one could ask for a fuller life than his. No man could have given more to his family, to his profession, and to his country."

Watch Charlton Heston part the Red Sea as Moses...


**************

I remember Charlton Heston in the film 'THE TEN COMMANDMENTS', I first saw the film when I was in elementary school at the Malate Catholic School in the 1960s. We were forced to watch 'The Ten Commandments' inside the school premises with a film projector...I think that was shown to us almost every year! I also remember the film being re-released in theaters in the early 1970s whenever the Holy Week season here in the Philippines took place...there weren't any DVD, VHS nor Betamax machines back then and we have to wait for the re-release of 'Ten Commandments' in Manila downtown theaters ! The parting of the red sea was the most indelible image I'll never forget...it was a breathtaking scene at the time (and still is), the SFX guys pulled it off with amazing results and if you would think about it there weren't any Computer-Generated Images via computer back then !

I also remember 'PLANET OF THE APES' poster in 1968 with Charlton Heston pinned against two apes, that poster was displayed somewhere in Rizal Avenue, Sta Cruz Manila.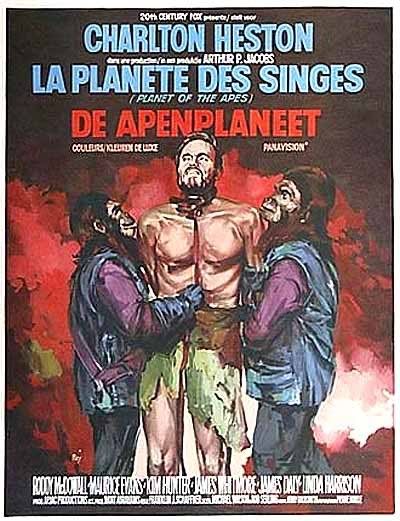 Who could forget Charlton Heston's famous phrase in 'Planet of the Apes'..."Get your stinking paws off me you damn dirty apes !".

The ending scene of 'Planet of the Apes' was a shocker for audiences back in 1968. I actually heard 'gasping' sounds when they saw this scene (below)...

(sidenotes: I actually made these screenshots from my 'Planet of the Apes' DVD collection)


a recognizable icon familiar to audiences at the end of the movie



Taylor (Charlton Heston) displayed such emotion of shock when he saw this familiar piece of landmark. He was in NYC after all this time, 20 centuries into the future.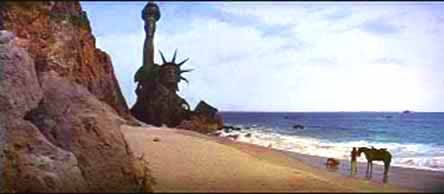 Now that's Hollywood subconsciously and indirectly promoting NYC !

I also remember the film 'Soylent Green' in the early 1970s with Edward G. Robinson. It was a shocking film to me , being a grade schooler at the time I was shocked to learn at the end of the film that they were eating people in the form of a green biscuits !

I also remember Charlton Heston as a guest star in Mike Myers' film WAYNE's WORLD in the early 1990s.
Sphere: Related Content