Kapitan Boom is Mars Ravelos' Komiks Presents first fantaserye offering aired on ABS-CBN. This series is based on the comic strip by Mars Ravelo, the man behind Darna, Captain Barbel, and Lastikman.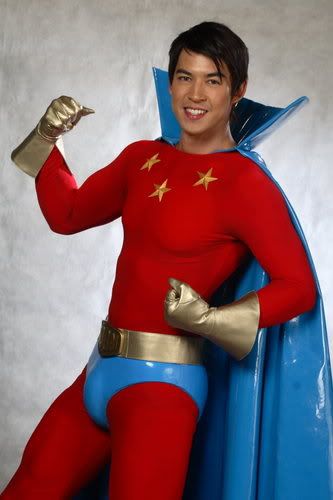 Pinoy Big Brother Celebrity Edition 2 housemate Jon Avila as KAPITAN BOOM, a superhero on ABS-CBN's weekly show "Komiks."




Cast and characters
Jon Avila as Kapitan Boom
Jay-R Siaboc as Lance (Kapitan Boom's alter-ego)
Maja Salvador as Melody
Marianna del Rio
Thou Reyes
William Martinez
Gloria Sevilla
Bembol Roco




Trivia
Jay-R Siaboc and Maja Salvador sing the theme song for Kapitan Boom.

Original airing April 26, 2008 on ABS-CBN




**************

DCRJ's sidenotes: Jon Avila looks like Brandon Routh (the guy who played Superman) in many ways but the costume reminded me of a fumbling super hero on TV in 1980 called 'The Greatest American Hero' starring William Katt.




William Katt rose to prominence when he played the Sundance Kid in 'Butch and Sundance: The Early Years' because of his similar looks with Robert Redford (played Sundance Kid with Paul Newman in 1968). 'The Greatest American Hero' was aired on GMA Network way back in 1980, GMA's slogan then was 'Where You Belong'. I also remember William Katt visited the studio of the then-small GMA network in 1980 on Student Canteen, Bobby Ledesma, co-host, said to Katt 'I thought you would come over here crashing into the walls of our studio'
Sphere: Related Content