My brother Darwin who resides with his lovely wife May and daughter Alyzza in Las Vegas, attended the Manny Pacquiao-Juan Manuel Marquez weigh-in (Pacquiao vs. Marquez II dubbed 'Unfinished Business') at the Manadalay Bay Events Center. Before the scheduled weigh-in, he chance upon a shining personality at the entrance of the Mandalay Bay Events Center - FREDDIE ROACH, Manny Pacquiao's boxing trainer.

Here are some photos of the encounter...



Freddie Roach was gracious enough to lend his boxing glove to my brother Darwin for this photo-opportunity.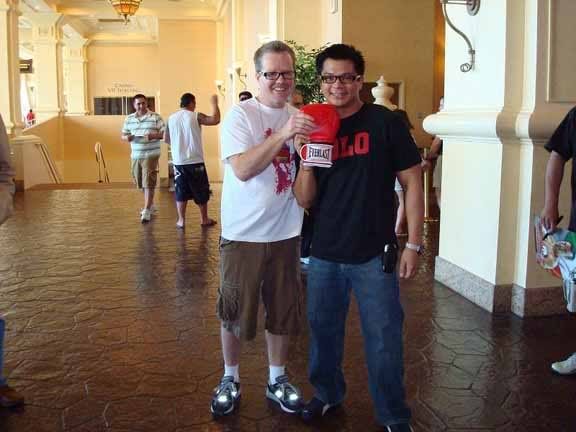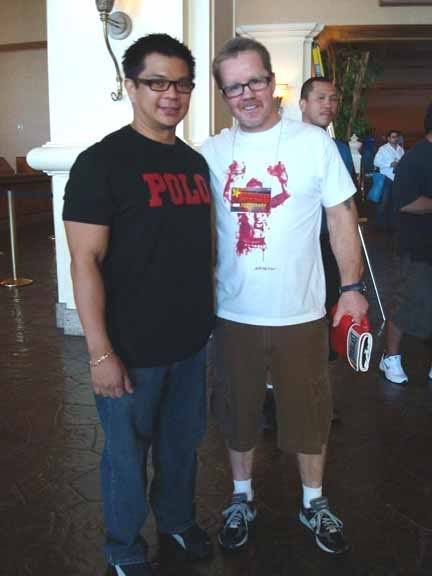 My brother told me that they wore the exact Oakley eyeglasses.

*************

Here are some info on Freddie Roach...

Known as "La Cucaracha" and "The Choir Boy", Roach turned pro in 1978 and spent most of his career as a Lightweight journeyman fighter. Roach was on the losing end of most of his high profile bouts. He dropped fights to former super lightweight champ Bobby Chacon and former lightweight champs Greg Haugen and Hector Camacho Sr.. Roach relied on a durable fighting style, and tried to outlast opponents in the ring. He was willing to take a shot to give a shot and ultimately this took its toll. Roach only went 13-12 in the last part of his career after starting 26-1.

Roach is the owner of the Wildcard Boxing Club in Los Angeles, and is currently one of the most popular trainers in boxing. Roach was voted Trainer of the Year by the Boxing Writers Association of America in 2003, 2006 and 2007. Roach trains junior lightweight champion Manny Pacquiao and trained Oscar De La Hoya for his May 5 2007 superfight against Floyd Mayweather Jr.

It is frequently noted on HBO that Roach suffers from Parkinson's disease, due to injuries sustained as a fighter, and severed a training relationship with Wayne McCullough due to McCullough's insistence on continuing to fight

article source: http://en.wikipedia.org/wiki/Freddie_Roach_%28boxing%29


Sphere: Related Content