'Dyesebel' craze hits town on April 28, 2008 when GMA aired its first episode courtesy of blockbuster stars Marian Rivera and Dingdong Dantes, both earlier played Marimar and Sergio respectively in GMA-7's hit 'Marimar'. But who is Dyesebel and where did she came from ? Let's take a look at the history of the Philippines' popular icon.

Dyesebel is a popular mermaid character in the Philippines. The comic book character was originally conceived by the Filipino comic book illustrator, Mars Ravelo. Dyesebel is a prominent character in Philippine cinema and television.

1953: Dyesebel

In the Philippines, the lore of Dyesebel began with the story of a girl born to a mermaid-obsessed Filipino mother.


Whilst pregnant, Dyesebel 's mother obsessively looked at a collection of mermaid pictures from a calendar which eventually affected the infant's form when it was born with a fishtail instead of normal human lower extremities. Dyesebel's father, angered by his child's deformity, wanted to abandon the child, only to be hindered by a bolt of lightning during a typhoon. To avoid the stigma of having a mermaid child, the couple decided to leave their village and relocate where they can raise Dyesebel in secret, hidden from prying eyes. The mermaid Dyesebel eventually met other mermaids while spending time by the seashore, and through her sea adventures, she comes into contact with Diangga, a sea-witch who had the power to transform sea-creatures like Dyesebel into normal humans. Dyesebel fell in love with a normal human man. But after her secret of being a mermaid was exposed, it prompted the jealous former girlfriend of the man with whom Dyesebel was in love, to kidnap Dyesebel and place her in a carnival. Dyesebel was later saved by her human lover. Diangga, the sea-witch, eventually transformed Dyesebel into a permanent female human with normal lower extremities.


1964: Anak ni Dyesebel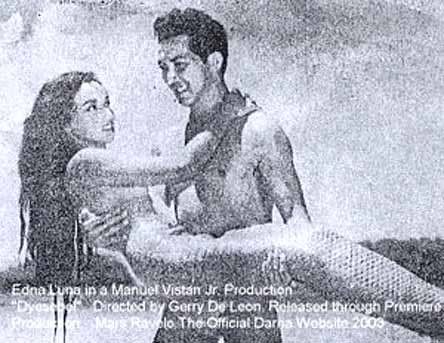 After a decade, Gerardo de Leon reunited the cast of the blockbuster 1953 movie Dyesebel in a sequel based on Mars Ravelo's Anak ni Dyesebel. The movie introduced Alona (played by Eva Montes), the daughter of Dyesebel (Edna Luna) and Fredo (Jaime dela Rosa).


1973: Si Dyesebel at ang Mahiwagang Kabibe
The 1973 Dyesebel movie directed by Emmanuel H. Borlaza was closer to Mars Ravelo's heroine mermaid. The character inhabits an undersea kingdom of mermaids, outcasted from the land of humans due to the belief that mermaids are the cause of misfortune. Dyesebel became attracted to a male human being and swore to find any means to be transformed into normal human woman, in order to be with the man that her heart desired.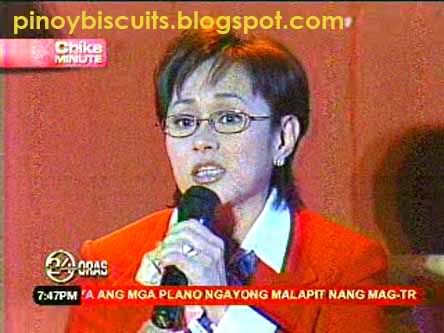 In this movie, Vilma Santos played the role of Dyesebel making her the first and only actress to play both Darna and Dyesebel, both classic Mars Ravelo creations. Romeo Miranda played Fredo.


1978: Sisid, Dyesebel, Sisid


Dyesebel (Alma Moreno) was a mermaid born to a rich couple, the husband claimed his wife had an affair with a merman, still loving and accepting, they moved to their beachhouse where dyesebel was kept in a wheelchair covered with a blanket to hide her tail, it was only her parents and her nanny who knew her identity as a mermaid, as she grow up into a lady mermaid (still on shore) the family hires fredo and his dad as their gardener. fredo and dyesebel fall in love and after dyesebel reveals herself to fredo, they decide to get married (complete with dyesebel wearing a wedding gown, in a fishtail), shortly after they got married, dyesebel's parents died on a plane crush, and dyesebel discovered that fredo is a womanizer, in full despair, she heard (after a long long time) the ocean calling her and she joined the mermaid kingdom. trying to be happy, she admitted that she misses fredo, asks banak (nova villa) how to be a human, she leads her to dyangga (bella flores), a human octopus, where with the help of a merman friend, kills dyangga to get the magical pearl on her head. she becomes human for an hour or so, only to break up with fredo and decide to be a mermaid forever, and live in the ocean she was deprived from since birth.

for me this is the longest dyesebel movie to date lasting 3 hours or so. for it focuses too much on dyesebel's everyday life and routine. the screenplay is slow and a bit too mature for a young audience. also for me this is the driest mermaid film ive seen, for since the beginning you'll never see her swim, she's stuck on that wheelchair, she even takes a bath on a tub, complete with soap and a brush, it was only at the end and the last hour of the film that she is on the ocean, at the mermaid kingdom, where she shouldve been in the first place, but knowing that alma moreno is a sexy star back then, that could be the factor why the movie's almost had a adult themed story.


1990: Alice Dixon's Dyesebel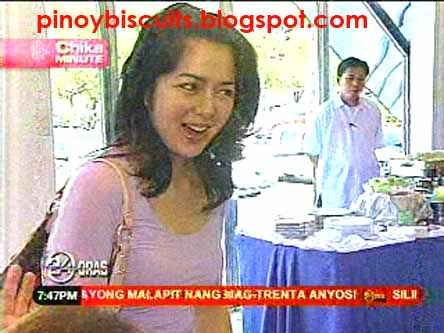 Obviously inspired by the movie "Splash" Alice Dixon's Dyesebel takes on a mature storyline, making it suitable for it's generation.

perhaps the most memorable dyesebel movie to date, the version has a many "firsts" that makes dyesebel what it is now, it's the first dyesebel that used the "orange-colored" fishtail, which is commonly used now, first dyesebel movie with real underwater scenes, the first mermaid on the aquarium, the frist mermaid movie that showcases a combination of her life on the water and on land, thus having mermaid-human transformations. and the first dyesebel movie that showed a realistic storyline on love and relationships.


A couple found a wounded and stranded pregnant mermaid on shore and died after giving birth, being childless, the couple adopted the mermaid's daughter and named her dyesbel, since childhood and to her teenage years, they moved from place to place to get away from angry mob, the teen dyesebel (carmina villaroel) starts to ask questions why she's a mermaid and shows signs of wanting to be a human. it was at this time that they decide to let dyesebel go into the deep with the other mermaids (not shown on screen)where, she has chance encounters with the teen edward (robert ortega) fast forward to present day where dyesebel is now a lady (alice dixon) she sees edward (richard gomez) again, then searches banak, a sea witch this time, to help her acquire human legs through a magic shell. however, it's only temporary, the shell has to be within her reach 24/7 or else she'll have her tails back.

she finds shelter through marina (malou de guzman) and iday (judy ann santos)who later on discovers her identity but still remain true to her. still having edwards wallet that was misplaced on the water (similar to splash) dyesebel and friends looks for edward and becomes a famous model (edward's friends own a modeling agency). dyesebel and edward finally meets and become lovers, however, malou, edwards almost-stalker-like-girlfriend-wannabe tries to break their relationship, at the same time, dyesebel has a hardtime keeping her identity a secret to edward. until she finally admits it to him, and shows him her trueself, where they broke up for sometime, until edward realizes he cant live without her, they are about to become closer and malou accidentally finds out, and exposed dyesebel's mermaid identity in a birthday party for edward (wonderful scene!) where the media and the government took interests on her, as a display on the country's underwater museum! (aquarium museum) but edwards rescued her, and malou discovered dyesebel's magic shells, steals it and breaks it, however, it only turned dyesebel into a human permanently and her into a mermaid, permanently.


1996: Dyesebel


Dyesebel is a 1996 film version Charlene Gonzales played Dyesebel with Matthew Mendoza as Fredo. It was directed by Emmanuel H. Borlaza.


On-screen actresses
In the movies, Dyesebel was portrayed by Filipino actresses, Edna Luna, Vilma Santos, Alma Moreno, Alice Dixon, and Charlene Gonzales.


In television, she was personified by the actress Ara Mina in a cameo appearance in Mars Ravelo's Darna (2005 TV Series). Vilma Santos was the only actress who played two of Mars Ravelo's komiks characters respectively, namely Darna and Dyesebel.

2008 TV Series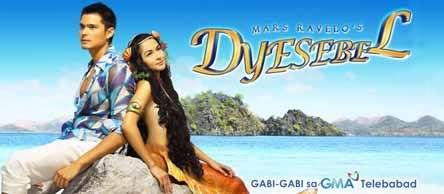 Mars Ravelo's Dyesebel, GMA Network premiered the first episode on April 28, 2008. Trivia: GMA were eyeing Rhian Ramos for the title role but it ended up with Marian Rivera. It was also said that Dennis Trillo had the part of Fredo but turned out to be Dingdong Dantes, Marian's leading man in MariMar. The same network has earlier made a TV series of Mars Ravelo's works like Darna and Captain Barbell.

article source : http://en.wikipedia.org/wiki/Dyesebel
photo source : snapshots made by me from the premiere episode of 'Dyesebel' and from 24 Oras. Other photo sources from the vast array of photos in the internet.
Sphere: Related Content