Here's ODD THINKING WITH MOVIES.......with CHRISTOPHER LEE

LORD OF THE RINGS : FELLOWSHIP OF THE RINGS (2001) -

Saruman (Christopher Lee) : "Against the power of Mordor, there can be no victory. We must join with him, Gandalf. We must join with Sauron. It would be wise, my friend."
Gandalf (Ian Mckellen) : "Tell me friend, when did Saruman the wise abandoned reason for madness ?! "




STAR WARS : EPISODE II - ATTACK OF THE CLONES (2002) -

Count Dooku (Christopher Lee) : "You must join me Obi-Wan, and together we will destroy the Sith!"
Obi-Wan Kenobi (Ewan McGregor) : " I will never join you, Dooku."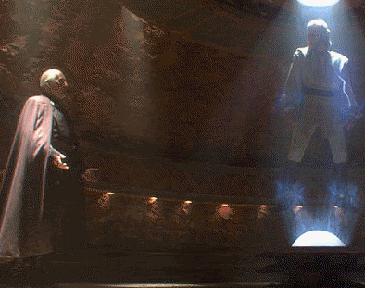 Both movie characters (Saruman and Count Dooku), played by actor Christopher Lee, were seen persuading their old acquiantance to join with them as allies, both old acquaintances rejected Lee's offer.

***************************

Here's another ODD THINKING WITH THE MOVIES.

Isn't it ironic that some dialogue in 'Star Wars Epsode VI Return of the Jedi' were taken by George Lucas out of context from 'Lord of the Rings : Return of the King' ?

Here's the facts....

LORD OF THE RINGS : RETURN OF THE KING (2003) -




Eowyn (Miranda Otto) : "I've got to save you"
King Theoden (Bernard Hill) : "You already did. Eowyn, my body is broken. You have to let me go"

STAR WARS : EPISODE VI - RETURN OF THE JEDI (1983) -




Luke Skywalker (Mark Hamill) : "No, you're coming with me. I'm not going to leave you here, I've got to save you"
Darth Vader/Anakin Skywalker (Sebastian Shaw) : "You already have, Luke. You were right, you were right about me"

Here's another catch : Both Last Episodes of LOTR and STAR WARS begin with the title RETURN !! (Return of the King / Return of the Jedi)
Sphere: Related Content