First she guested at Ellen Degeneres show wowed American audience with her powerful singing voice, guested in Korean TV shows then it's the Oprah Winfrey Show.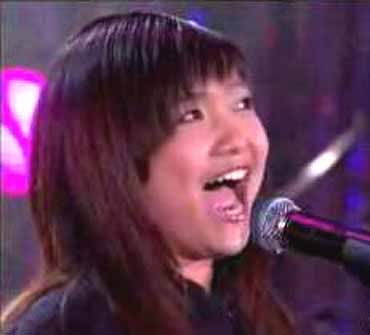 I saw this video at YouTube...CHARICE AT OPRAH SHOW (HIGH QUALITY)
video courtesy of rhomusicvideos


Here's the full video clip with OPRAH WINFREY



from Wikipedia.org
Charmaine Clarice Relucio Pempengco, better known by her screen name Charice (born May 10, 1992), is a Filipina singer who became a singing sensation throughout the world through YouTube. She started joining singing contests at the age of seven but became widely known in her native Philippines when she placed third in Little Big Star.

Charice became widely known when she first attracted attention in the cyberworld when the FalseVoice channel of YouTube posted her Little Big Star performance of Whitney Houston's hit, "I Will Always Love You." Many viewers thought her singing was fake, and that she was only lip synching because of her unbelievable vocals. Another popular video was a face-off between Pempengco and America's Got Talent winner, Bianca Ryan. These videos brought Pempengco to the attention of Ten Songs Productions, a record company based in Sweden. She then traveled to Stockholm in June 2007[5] and recorded seven songs, which included four cover songs, namely Whitney Houston's "I Will Always Love You," Kate Bush's "Running Up That Hill," Amy Diamond's "It Can Only Get Better," and the Shakespears Sister's "Stay" plus three original songs, "Amazing," "All The Money in the World," and "Born to Love You Forever." There is no news about when an album will be released.

A few months later, FalseVoice released a video of Charice singing the Dreamgirls anthem, "And I Am Telling You I'm Not Going." This earned her an invitation from one of the four national television networks in South Korea, Seoul Broadcasting System, on October 13, 2007 to perform on a talent show called Star King. The Korean audience was wowed by her rendition of "And I Am Telling You I'm Not Going." She also sang a duet, "A Whole New World", with Kyuhyun of Super Junior. Many viewers reposted her Star King performance on YouTube, and Charice found her way into American television. TV network E!'s The Daily Ten featured her Star King performance with the headline, "A Star Is Born" on November 14, 2007 and then titled her "Queen of the Week" on the Hollywood Royalty segment, this time with the headline, "A Queen Is Born" on November 16, 2007.

Charice's performance on Star King was featured on The Ellen DeGeneres Show on its November 28, 2007 episode, in which Ellen showed web videos of different people she would like to have as guests on the show. After showing the video, DeGeneres did a standing ovation and imitated Charice's gestures. She later personally invited the young singer to perform on the show.
Sphere: Related Content