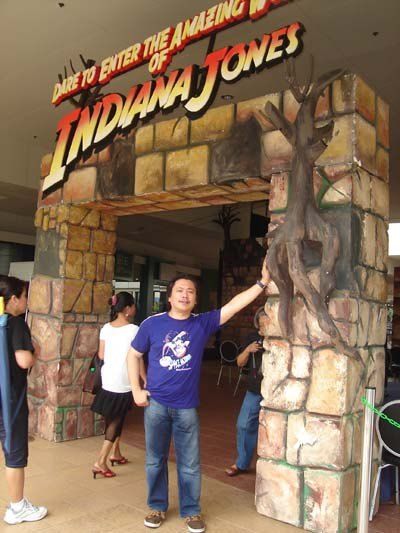 We saw 'Indiana Jones and the Kingdom of the Crystal Skull' last night at Cinema 2 of the SM Mall of Asia, Pasay city, Philippines. After 20 long years since the 1988 release of 'The Last Crusade' Indiana Jones now aged 65 (as with Harrison Ford's) is up for another adventure but this time the adventure is with his long lost 'girlfriend' Marion Ravenwood played by Karen Allen and Mutt Williams played by Shia LaBeouf of Transformers and Disturbia.

Missing in this 4th installment is Sean Connery, John Rhys-Davies and Denholm Elliot. The much-loved character Marcus Brody was played by the late Denholm Elliot who died of Aids-related tuberculosis in 1992, Steven Spielberg honored Denholm Elliot by placing his photo, in a scene in the movie, at the University of Chicago hallway and on Indy's office desk and as bust outside the University which was decapitated in chase sequence. The film didn't really suggested if Henry Jones (Sean Connery) has died, "Dad must be laughing somewhere" which could mean up in the heavens or somewhere in the world.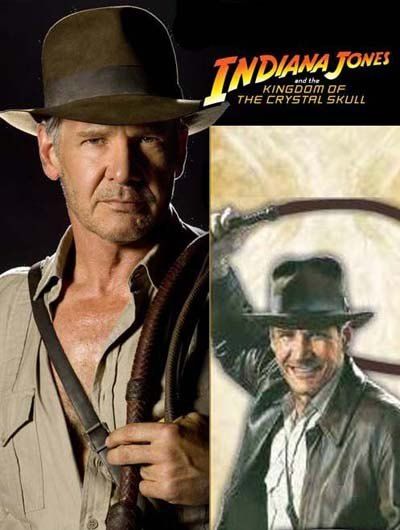 Watching the new Indiana Jones film is a nostalgic moment for me, I remember watching 'Raiders of the Lost Ark' in the summer of 1981 in a theater in Makati city, Philippines particularly Makati Cinema Square with my ex-girlfriend. 'Kingdon of the Crystal Skull' was even more nostalgic because it reunited Indy with Marion Ravenwood from 'Raiders' now Marion Williams to Marion Jones...opps! hehehe. I won't tell you the details but the 4th Indiana Jones installment brings back an ageing Harrison Ford in another gritty rough and tumble adventure and he can still crack the whip like no other.
Shia LaBeouf gave the film an emotional performance in some subtle scene as the tough but jumpy Mutt Williams but his relationship with Indy was somewhat contrived, I wish the character would be more of a rebellious type with a hidden grudge for Indy, Shia would show some intensity for the character Mutt...think James Dean from 'East of Eden', now that would integrate Shia LaBeouf in the level of a 'Rebel Without A Cause' performance but what can we do ? this is a popcorn movie after all, sans the emotional and dramatic intensity of an Oscar winning performance. Shia LaBeouf is on his way to becoming a method actor if only he would shy away from popcorn movies like Indiana Jones and Transformers.
Did you now that Shia LaBeouf's get-up is from Marlon Brando's get-up in the late 1950s? Here's a snaphot of Marlon Brandon ...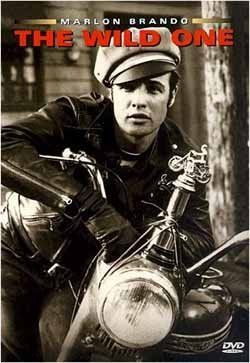 Here's Shia LaBeouf in a scene in Indy 4 wearing the same outfit of Marlon Brando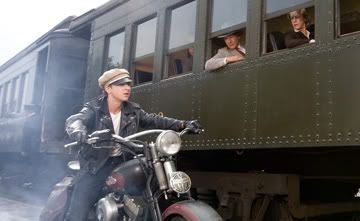 Annoying is the
Cate Blanchett
character with its fake Russian accent which sometimes went on and off. Hard to accept that the tall and muscular '
Beowulf
' we came to know about is a short and flabby character in the form of
Ray Winston
, the character didn't do anything but to be greedy and be a traitor to Indy. I immediately recognized
Ernie Reyes, Jr.
, the Filipino martial artist in such films as Teenage Mutant Ninja Tutles of the 90s, he's the Peruvian native with the poisonous dart!. Just as expected, the 4th installment still has the grittiness of an adventure, Indy's fear of snakes, Indy's professor suit, University of Chicago sans Marcus Brody, the airplane country-to-country route, the Paramount logo metamorphosis etc.
The ending scene would suggest a lot of things...an Indy 5th installment with the passing of the baton to...well, you know what I mean if you've seen the film. Overall, a great nostalgic film that works well specially if you'll look at the film at the level of a 12 year old kid.
P.S. - look for the cameo appearance of the 'Ark of the Covenant' from 'Raiders' in 'Crystal Skull'
My Movie Rating: 4/5
Sphere: Related Content