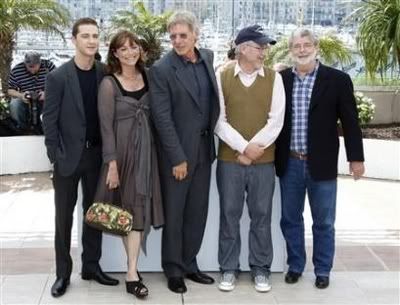 Director Steven Spielberg (2nd R) and producer George Lucas (R) pose with cast members Shia LaBeouf (L), Harrison Ford and Karen Allen (2nd L) during a photocall for the film 'Indiana Jones and the Kingdom of the Crystal Skull' at the 61st Cannes Film Festival May 18, 2008.

It has been 20 years from the last Indy film to the premiere of the 4th installment. Legendary gray haired men (from L to R) George Lucas, Harrison Ford and Steven Spielberg reunited at the premiere of the new Indy film.



Harrison Ford shakes the hand of Shia LeBouf (star of 'Transformers' and 'Disturbia'). Cate Blanchet looks on. Shia LeBouf is on top of the world right now, he's now with legendary people and rumours has it that he'll grab the lead in the 5th Indiana Jones installment, wow !



Karen Allen and Harrison Ford are reunited once again in the 4th Indy installment. Their first was 'Raiders of the Lost Ark'. I haven't seen the movie yet but it was rumored that the Mutt Williams played by Shia LeBouf is the son of Indy and Marion.



I hope George Lucas have a change of heart and decides to make Star Wars Episode VII, VIII and IX ! Grandpa Harrison Ford would play the part of an ageing Han Solo to near perfection !
Sphere: Related Content