The 'Taray' Video Scandal of Marian Rivera showing her confronting a man in the middle of a 'Dyesebel' shoot in Subic is spreading like wildfire on the internet. Marian Rivera explains that she got irritated when the man started taking shots of her using his cellphone camera. The famous Marian Rivera 'Taray' video can also be found here at PINOY BISCUITS, click link here --> Taray Video




Marian Rivera recieved a flurry of criticisms for the incident caught on video but Marian said she was just putting her foot down. It goes to show that she's an honest person with honest feelings and won't take anyone who would disrespect her by just sitting down.

Here's a video of Marian Rivera defending herself from the 'Taray' accusations, I personally recorded and uploaded the video from 'News On Q' to YouTube


The video also reported that Marian Rivera and Katrina Halili are in a tight race for the number 1 sexiest woman of FHM Philippines.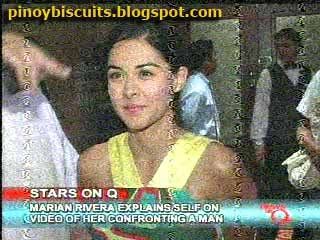 Sphere: Related Content