Filipina-Canadian beauty queen Riza Santos and Filipino hunk actor Will Devaughn will ramp on Hollywood movie "Road Raiders" see the teaser video



A remake of Mad Max that produced by US-Philippines co-production and directed by Cirio H. Santiago.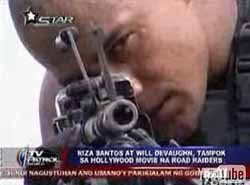 DCRJ's say on this:
Well, it's obvious that Riza Santos' character was taken out of the Angelina Jolie's famous video game character Lara Croft. Here's a snapshot of Riza Santos in a Tomb Raider get-up...
The 'Road Raiders' seems like a B-movie to me (from the behind-the-scenes footage of the video above). The film was said to be a remake of Mad Max aka Road Warrior, put 'Road Warrior' and 'Tomb Raider' together and you get 'Road Raiders' ugh !!
gaya-gaya puto-maya.
Sphere: Related Content