Manny Pacquiao is currently training behind closed doors in utmost secrecy for his upcoming bout with WBC Lightweight Champ David Diaz. The closed-door policy will be "strictly observed" at the Wild Card Gym from 1 p.m. to 3 p.m., the time when Pacquiao sharpens up at the Hollywood facility owned by renowned American trainer Freddie Roach. Security chief Rob Peters announced that friends and acquaintances of Pacquiao—the World Boxing Council super featherweight titlist who is gunning for Diaz's WBC lightweight crown—won't be given preferential treatment.




Diaz, who is training at the Jabb Gym in windy Chicago, said he is working harder with the bags.

"Manny is fast, you gotta be there for him, I feel its gonna be as hard," Diaz told Dennis Principe during the Sports Chat program on radio station dzSR on Monday.

"I'm not changing anything, as far as my style is concerned, its working for me so why change it.

"With Manny, you can't just rush in because you're gonna be in the floor looking up, so you've gotta be careful."

Excerpts from this article source : Inquirer.Net

DCRJ's say on this : I am surprized on David Diaz's words "I'm not changing anything, as far as my style is concerned, its working for me so why change it. I remember Bruce Lee's words of wisdom - "Empty your mind, be formless like water, if you put water into a cup it becomes the cup, put water into a teapot it becomes the teapot. Now, water can flow, water can crash. Be water my friend." and by that, it actually means - you have to be flexible like water, you must learn how to adapt with the ways or adapt to your opponent's style just like Bruce Lee's favorite weapon - the bamboo whip which according to Lee is flexible and able to adapt with any weapons of sort including Filipino arnis or the 'chako' or nunchaks. If David Diaz won't change his fighting style then let's give the Pacman the advantage over this hyped 'Lethal Combination' thingy. I always likened Manny Pacquiao as the new Bruce Lee, not only in physical prowess but also his fighting style. Observe Manny in any of his previous fights and you will notice that some of his punches came from different angles unnoticeable by his opponents thus getting hit and off guard as a result, just like water. Flexible.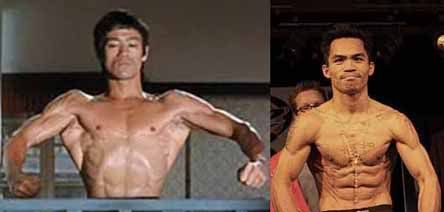 The following are the last set of photos (before the closed-door policy) of Manny Pacquiao training for the upcoming bout 'Lethal Combination' against WBC Lightweight Champ David Diaz, photos courtesy of Dr. Ed dela Vega of Philboxing.Com http://philboxing.com/news/story-16646.html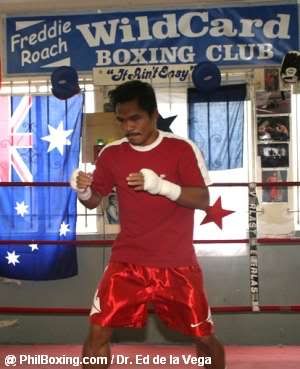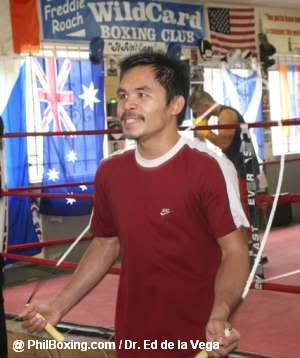 Sphere: Related Content