Jun Urbano is a writer, director and actor in the Philippines. Mr. Urbano gained fame in the late 1980s and early 1990s with his portrayal of the "Mr. Shooli," a Mongolian trying to learn the ways of the Philippines. Mr. Shooli, who "starred" in the television and movie satire "Mongolian Barbecue," poked fun at government officials during its run. Mr. Shooli, a Mongolian character who was astounded by the Philippines and its people. Mr. Shooli predated Hollywood's tactless foreigner, Borat. His dilemma about Filipinos were parallel to Borat's confusion about the American way of life. Jun Urbano is the son of legendary director of Philippine cinema, Manuel Conde.

I screen captured some snapshots on Jun Urbano's Mr. Shooli and his 'mongoloid' sidekick in a government bank infomercial which depicts corruption as a stagnant process harming the progress of the Philippines.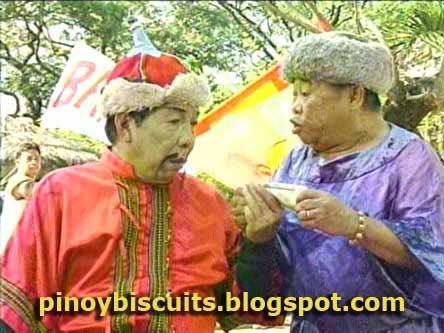 Italized text below, from this source :
KMU warns: Anti-militant ads will abet killings
A labor group on Friday criticized actor-satirist Manuel Urbano Jr. (a.k.a. Jun Urbano) for starring in a government bank infomercial depicting militant groups as troublemakers even as it said that the recent killing of a peasant leader was the 'opening salvo' of a new campaign against militants.

The Kilusang Mayo Uno (KMU) warned Urbano he could be held responsible if the commercials of the Development Bank of the Philippines trigger another wave of extra-judicial killings.
KMU said the DBP commercial declares the illusory "pagbabago'y nasa sarili" or self-remolding as alternative solution to Philippine crisis.
Sphere: Related Content