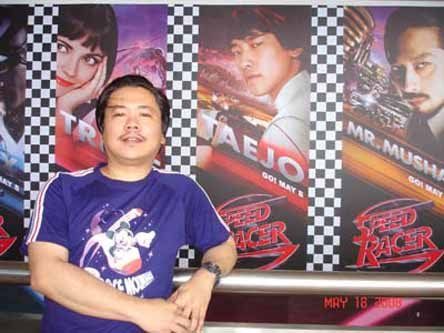 We saw SPEED RACER at the IMAX 3D San Miguel Cinema at the SM Mall of Asia May 11, 2008. I remember watching SPEED RACER cartoon in the early 1970s on RPN channel 9, a local network in the Philippines. The film SPEED RACER was based on that cartoon during my boyhood years and unfamiliarity with the characters wasn't far-fetched. Speed Racer tells the tale of 'Speed' (Emile Hirsch), young driver of the Mach 5 super car. His charge: to protect his family's honour and livelihood while the villainous race fixers try to bring him down.

SPEED RACERS was done by the directors of The Matrix Trilogy, the Wachowski brothers. They have created Speed Racer's cartoony world entirely from green screen sets and an assorted of mat-painted backgrounds probably done with high-tech computer software giving the world a colorful palette of rainbows in high contrast.




Watching the film at the IMAX Theater is enjoyable IF you don't experience eyes-strains due to the high-contrasting colors of the film placed on an 8-storey-high screen size and IF you appreciate only the eye-candies. Overall, I was bored in some scenes specially the family discussions of whatever-problems-they-may-have which to me could/should be edited out to give the film a momentum of adrenaline rush. The better ending scene compensates the whole feel of an almost entirely boring film.




Fun to watch RAIN, the Korean superstar whom Filipinos are familiar with due to the showing of FULL HOUSE here in the Philippines last year or two. Cristina Ricci looks different to me in this film since the only film I remember seeing her was in 'Adam's Family' a decade ago. Academy Award winner Susan Sarandon and the 'Babe Ruth/Fred Flintstone' John Goodman wasted their time in this unforgettable movie which I think the reason why they were casted was to give the film a high notch in terms of adult appeal.

My Movie Rating : 2 out of 5 Biscuits !
Sphere: Related Content