As reported by 24 ORAS News Program of GMA-7, Nursing course is the top choice of many enrollees this year. It's a 'hot pandesal syndrome' which means a top choice among enrollees from 'word-of-mouth' spreads just like a replicating virus. I am not surprised, Nursing jobs abroad are high salaried careers, even licensed medical doctors here who are colleagues of mine took up nursing and now are abroad working as nurses !

Philippine Enrollment Forecast for the coming school year 2008-2009 (souce: CHED)

1. Nursing
2. Hotel and Restaurant Mgt.
3. Computer Science
4. Criminology
5. Information Technology
6. Accountancy
7. Management
8. Elementary Education
9. English Education
10. Electronics and Comm. Eng'g.
11. Marine Transportation
12. Computer Eng'g.




Job Vacancies (source: Phil-Job.Net)

1. Call Center
2. Staff Nurse
3. Mason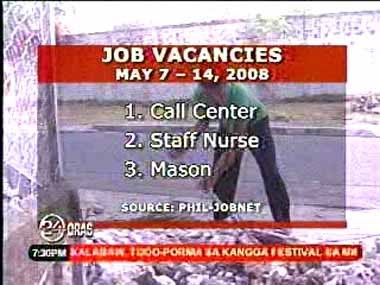 Polytechnic University of the Philippines (PUP) also plans on opening up a nursing course even though schools in the Philippines are overproducing nursing graduates.



Other jobs being offered can be found in this website: Phil-JobNet

Here's the report from 24 ORAS (I personally recorded and uploaded it to YouTube)

Sphere: Related Content