We saw IRON MAN starred by Robert Downey Jr. at the SM Mall of Asia, Centerstage theater yesterday May 3, 2008. I've been reading Marvel's IRON MAN since I was in grade school. I also remember watching Iron Man in a not-so-animated cartoon in the late 1960s, the mouth of the characters were the only ones moving in sync with the dialogue, that cartoon series along with other Marvel greats were high-tech in those days. The Iron Man cartoon theme song lingers in my memory , although I forgot the exact lyrics but I still know the tune. But with a single google search the images and music of the 1966-67 Iron Man cartoon came to life once again, I found this video in YouTube...


The magic of You Tube, Iron Man cartoon intro is now archived for today's generation to see.

I even bought an Iron Man figure in 2003, still sealed, goes to show you how I adore those Marvel characters.



We saw the 2008 movie incarnation of IRON MAN yesterday



Tony Stark (played by Robert Downey Jr.) is a billionaire playboy, an industrialist and masterful inventor. He was ambushed and captured by the Taliban terrorist group in Afghanistan after a demonstration of Stark industries' high-powered weapons. Courtesy of Stark's fellow prisoner and also a genius inventor, he placed Tony Stark with a magnetic canister and embedded it on his chest to repel the sharpnels (from the ambush) from going to his heart. During his capture, Stark is forced to construct a weapon of mass destruction for the Talibans. But with the aid of the same fellow prisoner, Stark instead creates a makeshift prototype (Iron Man) suit of armor and blasts his way to freedom. Back in the U.S., Stark waged a battle with an ambitious colleague played by Jeff Bridges. Thinking of protecting the thousands of lives from weapons of mass destruction from his own Stark Industries handled by his greedy colleague, Tony Stark designed a new Iron Man suit with upgraded micro arsenals this time with the famous red and golden yellow iconic colors seen in the comic books. Virginia "Pepper" Potts from the comics is also in the movie played by Gwyneth Paltrow adding zest to Tony Stark's 'emptiness'.

A wonderment and joy for me to see Iron Man come alive in the movies. Images of my readings with the Iron Man comic books when I was in grade school, the 1966-67 cartoons and images of a mustachioed Tony Stark in the comics and comparing it to Robert Downey's role...all flashed back to me while seeing the movie gave me a sense of wonder like when I was an 8 year old boy reading the Iron Man comic book for the first time in 1968 !.

I can't think of any other actors to play Tony Stark better than Robert Downey...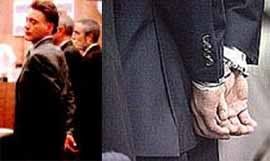 ...who has had his own substance abuse and had jail time in the past, suits the role very well convincingly giving the louche playboy Tony Stark a witty, kind-hearted sensitivity in the movie.

I remember Jeff Bidges as a good natured 'alien' in Starman...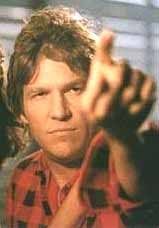 ...now plays a baddie as the Iron Monger, donning a bald look and a beard I thought he was Kris Kristofferson !.


Jeff Bridges is Obidiah Stane aka Iron Monger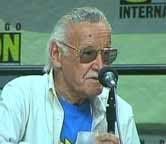 Stan Lee, creator of Iron Man

It was a blast to see Stan Lee again in a cameo role as always seen in other Marvel movies in the past, did he played Hugh Hefner in Iron Man ? I saw the end credit, it says Stan Lee as himself, not Hugh Hefner, but Tony Stark greeted Stan Lee in the movie with a 'good to see you, Hef'.

Tony Stark test driving the upgraded Iron Man suit in a trial and error experiment is one of the best scenes in the movie leveling it on par with the likes of the other reluctant-superhero movie greats, first two Spider-man by Tobey Maguire. The end battle scene between the Iron Monger and Iron Man is a 'been-there, done-that' situation seen typically in other superhero movies, having said that, Iron Man is one of the best and new movie franchise ever to hit the big screen.

My Movie Rating : 5/5 Biscuits !

P.S. - see my spoiler article on the end credit of Iron Man...see related posts by DCRJ, link below
Sphere: Related Content